CRAFTS COUNCIL OF INDIA…..EXHIBITIONS TO SHOWCASE TEXTILES, JEWELLERY AND CRAFT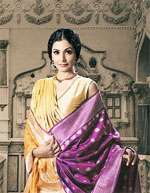 It was Smt. Kamaladevi Chattopadhyay, patron of craft in the country who established the Crafts Council of India with the idea of reviving craft which was in danger of languishing, and to uplift the craftsperson, and to restore him to the status he once enjoyed. Today, CCI with its headquarters in Chennai is an apex body networking with its thirteen affiliated Councils through the country. CCI's many programmes are supported by the office of the DCH New Delhi. The formation of the World Crafts Council was an extension of the need to make crafts relevant to entire humanity. For over three decades therefore, CCI has worked through its volunteer members as a catalyst to revive traditional crafts and in the process enabling and empowering numerous craftspeople and communities as well. CCI works at both ends of the spectrum – directly with craftspersons and at the market end.
An important CCI project is the stone workshop programme which has been held in various parts of India wherein foreign experts have been invited to teach the stone craftspersons the use of power and pneumatic tools to reduce their drudgery and to improve production and quality of their work, at the same time retaining their traditional skills.
At the wood workshop experts were called in to impart techniques in "finishing" which would enable the wood craftspersons to find permanent markets and as a result of these two workshops beautiful products for the home have emerged. Natural dyes workshops are organized, by CCI, collaborating with other organizations working on the theme.
The craftspersons are encouraged to showcase quality products through competitions organized through international organizations such as the World Crafts Council and the UNESCO. Prestigious awards are conferred for the best of craft.
CCI focuses on the children of craftspeople programming on educating the children as well as restoring links with their paramparic craft. 15 children are selected each year and the cost of their education is covered for three years with a condition that they learn the craft from their parents. A mentor from CCI is attached to each child to guide them in their work in the craft. An annual camp is also held to introduce and expose the children to a wider range of disciplines and skills such as - appreciation of colour, drawing, dimensions, proportions, design, costing, systematic planning, team work, sales and marketing, etc. These will be imparted through experts and resource persons in the respective fields and through innovative ways.
The exhibition of textiles and jewellery is conducted with a view to bring together on a common platform both the designer and the craftsperson and to raise funds to support the various activities of the organization which do not always get covered by project funding.
During this exhibition, weaver, craftsperson and designer are put on par with stalls next to each other and at an up-market venue. Only a select 20 to 23 are chosen by a committee. The 2 day show is run on a professional basis. The craftspersons not only experience this new market segment, the sale also helps as a place for them to be exposed to the extent of creativity their craft can be taken to. Many of them are able to make tie-ups with designers who visit for further long term business and orders. The sale is scheduled for September 5 and 6, 2008 at the Hotel Chola Sheraton.
The products include ethnic tribal jewellery, handloom saris, Madhubani tussars, Ashavalis from Ahmedabad, bandhinis and patolas, phulkari saris and suits, kantha and chikankari saris, bags and cholis, kurtis and tunics, Smriti Morarka designer saris from Benares and many more.
Further, CCI has reached out through its retail outlets (KAMALA Craft Shops) in New Delhi and Hyderabad with more in the offing in the next couple of years.
TIMES OF INDIA. 2008