Books
Sabita Radhakrishna
ANNAPURNI -- Heritage Cuisine from Tamil Nadu
Published by Roli Books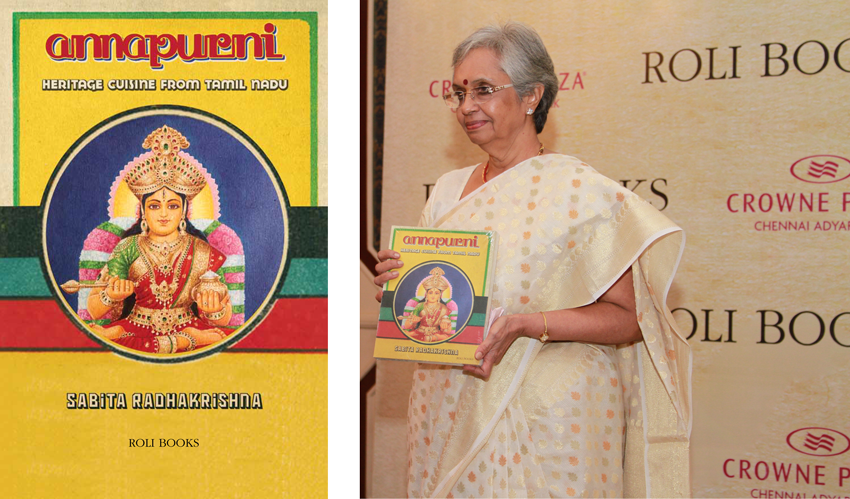 ---
Aharam…Traditional Cuisine of Tamil Nadu
Published by Zaika BPI (India) Ltd 3 print runs

Aharam is an invaluable record of about 175 authentic Tamilian food, each recipe being used for 75 years or more in traditional households. It covers Tiffin Varieties, Chutneys, Podis, Rice Dishes and Pulaos, Pachidis, Non vegetarian and vegetarian curries and fries, mutton, chicken, fish and egg recipes, pickles and traditional sweet dishes.
Aharam won the prestigious Gourmand French World Cookbook Award for Best Indian Cookbook for the year 2002.Sample recipe click here.
The Quick Cook…60 Minute Menus
Published by Westland Books Pvt Ltd. 2006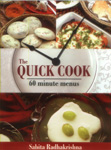 The book covers 30 menus to finish within the hour with step-by-step instructions which so that the whole menu is cooked with ease and is a boon to housewives who want to produce a meal in a hurry. There are quick cooking breakfast dishes and delicious desserts that you don't have to slave over Included are valuable hints and tips on food preparation which cuts out the drudgery in the kitchen. There is a wonderful mix of recipes from different regions including the continental varieties and a compilation of old and new recipes. Sample receipe click here.click here.
Autobiography of an Actor Sivaji Ganesan
Published by Sivaji Prabhu Charities Trust 2007

The Tamil version in the form of interviews was done by Dr. T. Narayanswamy and the English version by Sabita Radhakrishna. She has offered to the English readers a translation without taking away the essence of the great actor's expressions in Tamil. A challenging task when you rewrite the words of someone much admired.
Kids Kitchen
The book ensures safety for the little cook at all times....
An excerpt.....
TIPS FOR SAFETY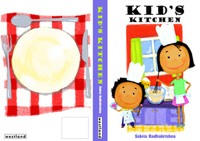 Whenever you watch your Mum or your Grandmum cook those yummy foods just for you, don't you get tempted to get into it yourself? Well this book then is just for you, to follow the instructions carefully and enjoy cooking. But get permission first to cook, and make sure an adult is around when you are working in the kitchen.
You cannot do all that grown ups can do in the kitchen. If You are under twelve, you should not attempt to light a stove or switch on an electric one unless grown ups are around. Even at fourteen, if you are not confident don't do it. Don't do it if your parents are not confident either! Nasty accidents can happen. Let the grown ups place pans on the stove or in the oven till you are old enough to handle this.
Wash your hands before you start to cook. Make sure there is an adult in the home when you are cooking. In case you get a burn or pour hot liquid on you, just shout for help. Place the affected skin under a tap of running cold water. Do not attempt to remove stuck clothing from the skin. If you cut your finger go to an adult for help. She or he will wash the wound and apply an antiseptic and dress with a bandage if necessary. Do not use the micro wave oven if you don't know how. Only microwave safe bowls can be used in the microwave oven. Do not try to cut veggies, handle knives or mixies or anything else yourself if you are under ten. Let adults do this for you. Always use pot holders or oven gloves when you are handling anything hot. If you are not sure of this, please call for grown-up help! Keep coasters for hot pans to be placed on the counter.pefully the book will be out on the shelves in a couple of months. Sample recipe click here.
Sabita Radhakrishna's latest book "KIDS KITCHEN, Fun Recipes for Little Chefs" won the Gourmand World Cookbook Award 2009 for the Best in India under the category Children and Family.
Pathways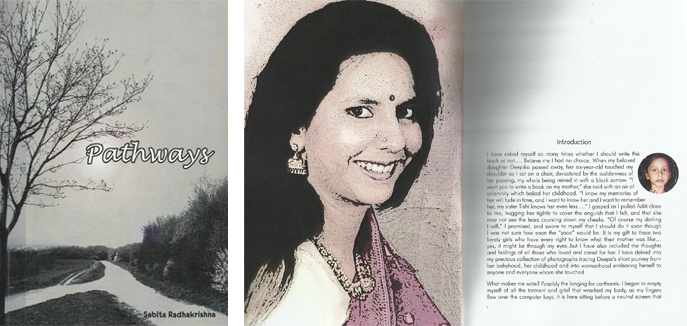 Pathways is a poignant account of the inner turmoil and grief felt at losing a daughter. It is however interlaced with humour, interesting accounts of various members of her family and friends and how Sabita's life was enriched by them. It was dedicated to her daughter's children who wanted the book in memory of their mother, but the author thought that combining it with stories and anecdotes would make the novelette lighter, and besides she shows that suffering makes one emerge stronger.