'Booking' Grandmother's Secret Signature Dishes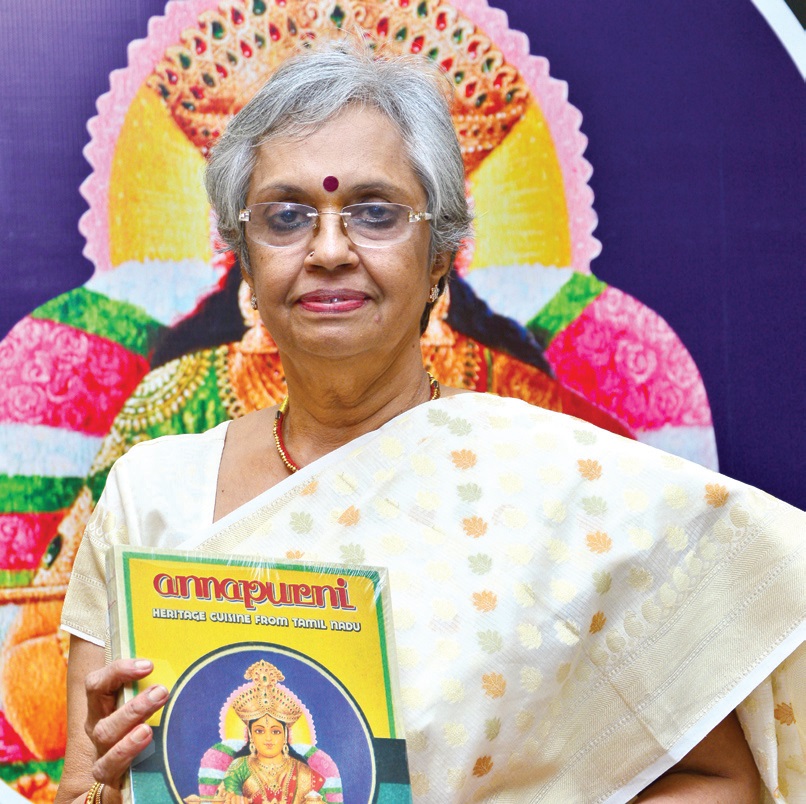 ---
Collection of heritage cuisines from Tamil Nadu to hit stands soon
CHENNAI: When she got married at the age of 18, Sabita Radhakrishna didn't know anything about cooking. In an era where internet and email were unheard of and making a phone call was a luxury, she often relied on her mother's handwritten recipes delivered by post to help her out in the kitchen. Today, Radhakrishna is a cookbook author and food columnist who is all set to launch her fourth book - 'Annapurni: Heritage Cuisine From TN'. Read More.
---
Stirring up memories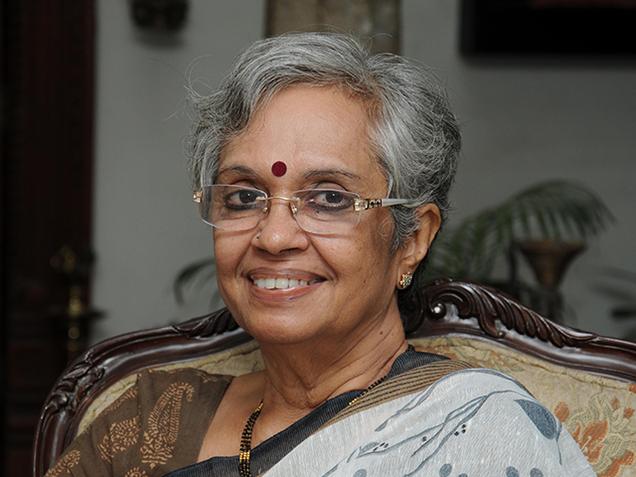 ---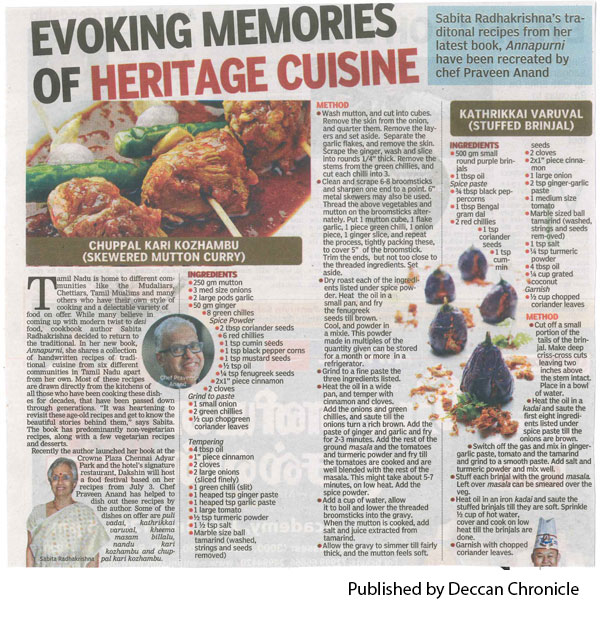 ---
A 'song' so bewitching
Padma Ramnath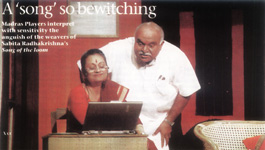 A member of the executive council of Crafts Council of India (an NGO from Chennai, which has worked zealously to save the weavers' traditions), a well-known playwright and, above all, the high priestess of traditional hand looms and crafts, Sabita Radhakrishna has written Song of the loom with a passion and sincerity that come across with no trace of posturing. What is the poignant status of our traditional weavers? Is periodic cosmetic government intervention enough to save our traditions of weaving, handed down from generations to generations? In that idealistic rush to save the weavers' tradition, can modernity be wished away? Above all, is it time for the weavers themselves to come to terms with reality and make a transifion to more lucrative pastures?
Against this scenario, Radhakrishna has created a tight `ramework for her play, Song of theloom, which could have well turned into a dirge for the loom, had it not been for the honesty and candor with which 'he author explores all the dimensions of the theme. And it is not region-specific either. Weavers from all over the country, especially .Andhra Pradesh, Uttar Pradesh, Madhya Pradesh 3nd Tamil Nadu, are facing economic distress, may be even extinction of their skills. The music made by the lulling movement of the shuttle, as the weaver warps and wefts his way through, is the background for this play.
The play comes to stunning life through the Madras Players, who have interpreted the anguish of the weavers and the feelings of the playwright with great sensitivity. The plot is simple and depicts the dilemma of a retired IAS officer "Tilak Raj in a place called Ariyur, his commitment to traditional art of weaving still true, even after retire ment. Sundari, his wife is the typical middle-class bureaucrat's wife, who wants to be good and seen to be doing the right thing, but is yet evolved in middle-class dreams - children settled abroad, grand-children interacting through the Internet, and a well educated idealistic daughter, on whom Sundari tries to superimpose her own values. Pitched against this family is Kulasekaran, a master weaver, trying his utmost not to abandon his tradi tion, but helpless in the clutches of a moneylender. He is lurching from poverty to penury, with his wife 1'onni ,hafing at his 'stupidity' and deriding him at every stage, pushing him to the brink of sanity. So much so that, one day, the very saree he has lovingly woven becomes a noose.
Such was the subject with a powerful social theme that Madras Players came forward to stage the play and the 16 actors of Song of the Loom acted their parts with such passion and commitment that the writer in me was more than just satisfied. Madras Players is the oldest English theatre group in India and all the members are professional and like our Crafts Council members who work in a voluntary capacity, the Players participate for the love of theatre, often spending out of their pockets during preparation of a play.
The directors, "T.T. Srinath and Indirani Krishnaier, have made Song of the loom a tautly told tale, though it could have easily veered off into the docu mentary mode, with a slight slip-up. The cast, led by Shankar Sundaram, Ammu Chaterji, P.C. Ramakrishna, Amrita Shetty, Namrata Kartik and others, has turned in excellent performances. The efforts of the Crafts Council of India have gone a long way to make the play a reality. "The sons of the traditional weavers are lured by higher wages to other avenues of livelihood," says Radhakrishna. "Can idealism alone provide them with a livelihood? Is allowing them to go tantamount to bidding farewell to our extraordinary handloom traditions?" she asks.
Song of the loom is powerful and bewitching and compels the viewers to think. Each one of us has an obligation to spare a thought for our extraordi nary and rich traditions. 'Save the Weaver' is just as compelling an envi ronmental issue as `Save the Tiger'.
Business India, 2008.
---
Excellent ethnic fare
For those interested in authentic Tamilian cooking, vegetarian and nonvegetarian, this book serves as an excellent introduction, says RUTH N. DAVIDAR.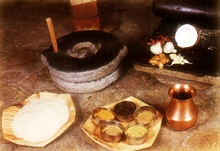 ANOTHER book on regional cooking. Three cheers! I am always very pleased when more grandmothers' recipes see the light of day. Sabita Radhakrishna has done well to highlight non-Brahmin cooking, putting together in Aharam the traditional recipes of the Mudaliar, Chettiar and Vellala communities of Tamil Nadu. She has also taken great trouble to provide serving suggestions. This is crucial because even if you are interested in this sort of cooking, you may not know what best complements a particular dish. Additionally, to give the book a Tamil feel, traditional kolams enliven every page. Nice touch that. However, these and the other drawings in the book are accredited to Ravi Gopalkrishnan in one place, and to Ram Gopalakrishnan elsewhere. Siamese twins?
Every time I review a cookbook, I usually cook from it to ascertain if the recipes work. This time round, a gift of a heap of field beans or mochakottai (not to be confused with broad beans or avarakkai which are similar in appearance), just about decided what I should cook. Field beans, a favourite of the Mudaliars, are not easy to come by, so it had to be a mochakka recipe even though I knew I'd almost lose my fingernails in the process of shelling the beans. Among us Tamils, it is considered highly complimentary if someone steps into your home and remarks, "nalla samaiyal vasanai." I had barely commenced the preparation of the Mudaliar speciality pachai masala kari kurma or green mutton curry, when my father walked into the kitchen and said, as if on cue, "Nice aroma already."
Since the cooking of Chettinad is all the rage now in restaurants serving south Indian fare, I gave Kozhi uppu varuval or Chettinad chicken fry a shot as well. The verdict: if you are looking for authentic Mudaliar and Chettiar cuisine, then this is the book to buy.
However, like most good cooks, Radhakrishna assumes that everyone knows his or her way about the kitchen. This could get the beginner into quite a fix. Her recipes call for ginger-garlic paste, (agreed, it is now available as a commercial product), but how is it prepared at home? I got it right because I know what it takes to stand over a cooking pot. And the tamarind I use does not take two hours to yield its pulp. Soaking it in hot water for ten minutes does the trick. Additionally, following Radhakrishna's suggestions to extract thick and thin coconut milk could leave you in tears or slamming the kitchen counter in frustration.
Similarly, Radhakrishna believes that anyone can tackle a pressure cooker. So we are faced with instructions like "Pressure cook both dals..." Fortunately, these lapses are few, though, by and large, her instructions are uncomplicated.
"Cookbook is one word," thundered Khorshed Ezekiel in a spirited piece on how to write one. May I add, so is peppercorn. Cookbook writers should first standardise terminology and instructions before putting pen to paper. For example, the gadget used to process foods is called a mixer, not the more familiar colloquialism "mixie." Anything less is unacceptable.
Also, Radhakrishna freely interchanges the terms seasoning and tempering. Before I explain, I hasten to add that you won't go wrong with the recipes if you can't tell the difference between the two. But I think a clarification is relevant. To season means to adjust the flavour of the dish by the addition of salt, pepper or other herbs and condiments. Season is also used to indicate that the surface of a pan or griddle (tawa) is well coated with oil so that food does not stick to it during cooking. Another word for seasoning a pan is proving.
Tempering is quite another feature, and is typical of Indian cooking. Small amounts of mustard seeds, black gram dhal, red chillies, curry leaves and the like are added to a little hot oil during the preparation of many Indian dishes. This practice not only adds flavour, but has a number of inherent nutritional benefits as well.
Not surprisingly, even though she is a qualified sociologist, Radhakrishna cannot resist a shot at some nutrition advice. Her calorie chart "given to help the calorie conscious to work out a sensible diet," is accurate if a little too sparse. You either go the whole hog or not at all. Being picky about what food or dishes to include says too little to make much sense.
The book also has some good photographs. Sadly, the sketches meant to portray what the photographs represent do not always match up. So, thayir vadais are called carrot pachidi, for instance. Further, the labelling of the photographs should be more genuine. You just cannot pass of cumin and coriander seeds for lentils. Pictures don't lie!
Most intriguing of all is the mysterious "s" that first makes its appearance in the chapter on non-vegetarian curries and fries. From then on, it pops up every now and again, in the special menu section, and even in the calories chart where "s"...6 (50 gm) provides 175 calories. As a true-born Tamil, I fail to crack this one. Could this be a secret family code that the author cannot divulge?
All in all, this book can help you steer through the intricacies of authentic Tamil cuisine. But let it not be your first time in the kitchen.
More reviews
The Hindu, 2001
---
The Divas of Dining
Ranjitha Ashok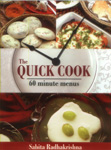 A distinct air of warm, maternal concern runs through her Quick Cook, its numerous easy-to-follow details and and instructions make it tell, rather like a fond, slightly anxious mother instructing her clueless child in the art of cooking.Sabita's background of plays and television helped her visualize a hapless novice in the kitchen. Thirty multi-cuisine menus are provided where three dishes can be simultaneously cooked. All you have to do is to follow the colour code prescribed for each dish.
The book teaches you cooking and time management….
Madras Musings, February 2007
---
The essence of time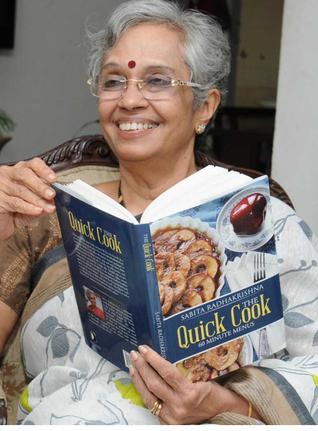 Sabita Radhakrishna is used to starting trends. She pioneered the boutique concept in Chennai with Amrapali. Then she went from being a gifted home cook to cookbook author in what she calls, a "happy mistake that I never meant to make." Now she's launched her latest cookbook, The Quick Cook .
---
Unravelling folds of the desi sari
Express Features - Chennai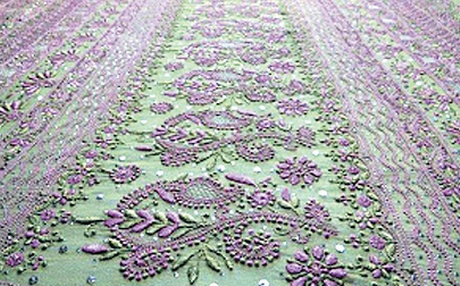 Chikankari, Chanderi, Kota, Koraput, Paithani, The Vichitrapuri, Bandhini... Phew. That is an exhausting list of names of, wait for it, saris. But for Sabita Radhakrishna, an author, playwright and a member of the Crafts Council of India, those were not merely names of the different kinds of saris available in India, but a reflection of her passion towards the six-yard fabric.
In the city to present a talk on the Romance of the Indian Sari organised by Apparao Galleries recently, Sabita traced the genesis of the sari and took the audience through its various avatars throughout the years, starting from its humble khadi avatar to its modern day interpretations by various designers like Wendell Rodricks, Sabyasachi and others....
The New Indian Express, July, 2013
---
A nine-yard romance
Times Neighbourhood, Kodambakkam | July 6, 2013