PAACHAKAM BOOK LAUNCH
AT SAVERA HOTEL OCT 17th 2022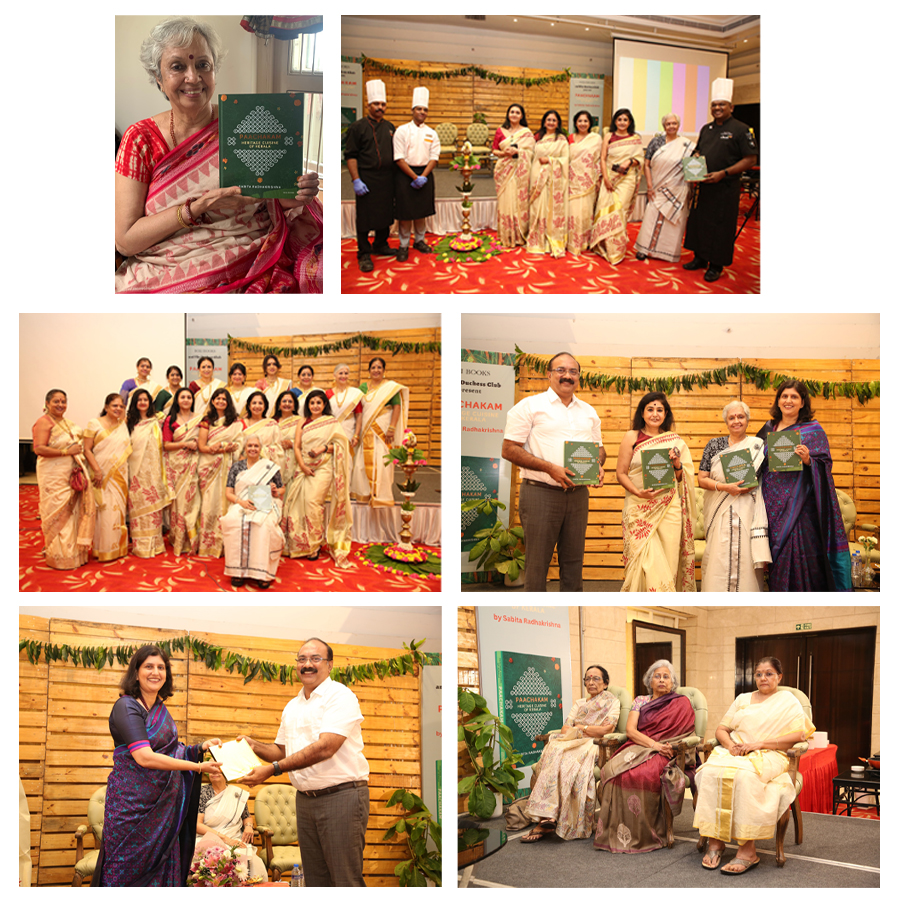 It happened at last! Years of research, cooking, trying out complicated dishes from Kerala, exploring the history, interacting with home cooks, shoring up their expertise, looking at different communities, their customs, noting similarities and tracing the threads of commonality and the marked differences….yes it has been a long journey! An exciting one to say the least. A learning curve for me.
Writing the recipes down, checking and re checking and going through an editorial exercise with the publishers, and facing the last straw which almost broke the camel's back was the pandemic of 2019. I said a prayer and handed over my manuscript. Interminable delays, glitches and suddenly the road opened up, smooth and inviting.
When Paachakam finally rolled out, a compendium of well-loved and exotic heritage recipes from the main communities of Kerala, appreciation poured in, at the design, the artwork the production and of course the content. We decided to have a formal launch, and of course it had to be at Savera Hotel.
Nina Reddy was more than willing, and the grand event hosted by the Duchess Club and Roli books my publishers on October 17th 2022.
Nina Reddy co-director of Savera Hotel, was Guest of Honour, and Chef Regi Mathew co- founder of the restaurant Kappa Chakka Khandari was Chief Guest.
The hall was packed, and the event flagged off by a short invocation dance by ladies in their gorgeous Kerala mundus. Gayathri Kumaresan's compering was impeccable, and Rathi Nilakantan's short interview with the contributors opened insights further into the intricacies of Kerala cuisine and their traditions.
Only Sare Paul (Syrian Christian) Usha Chandrakumar ( Poduval) and Meera Nair (Nair) represented their respective communities, the others could not attend due to illness or being away from the country.
I interacted with Chef Jesu and his team, curated the lunch menu with inputs from Rathi Nilakantan, and even had a small demonstration by the chefs to whet appetites further! The chief guests and I addressed the gathering, and all the speeches were lauded.
The vote of thanks, by my son Pradeep Radhakrishna was indeed unique and received much applause.
The food was delicious and we ran out of some of the dishes! We got a bigger crowd than we bargained for.
The sales were good according to Selva who represented Roli books I came home, tired but very elated and the success of the endeavours and effort put in not just by me but all those who contributed in various measures to Paachakam.. Thank you Duchess Cub team, and thank you Roli books for making this day possible and outstanding.
"INTERWOVEN IDENTITIES 2.0 - The Handloom Narratives" August 2022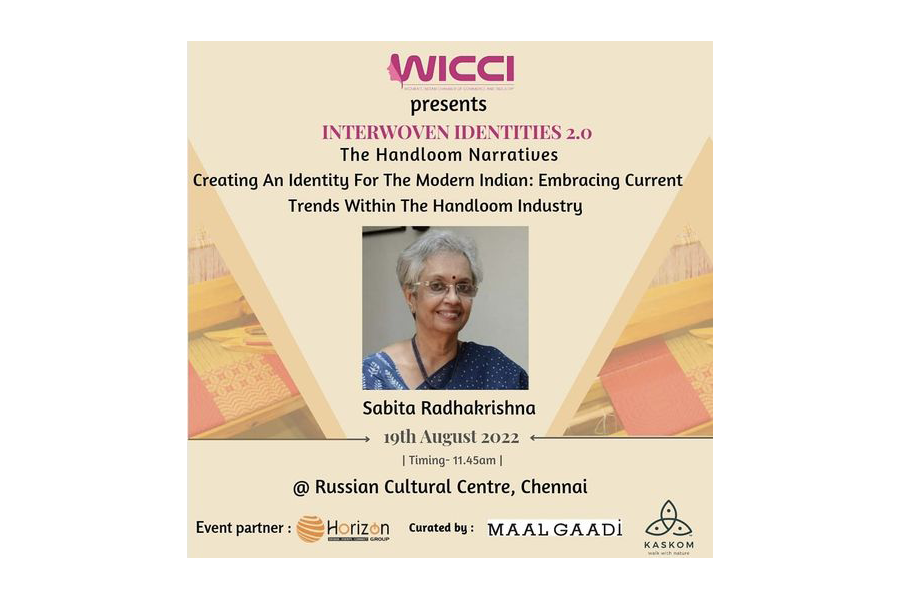 The WICCI National Handloom Council, along with its State Councils, presents- "INTERWOVEN IDENTITIES 2.0 - The Handloom Narratives". So happy to introduce our Special Speaker of the 1st Plenary Session - Ms Sabita Radhikrishna.
She is a Textile Revivalist, Research Scholar, Designer, Writer & Author. Ms Sabita is an award winning author of many cookbooks, a playwright, and a regular colomnist in many leading publications. She is a textile and craft activist, for over 40 years now.
Out of her 4 cookbooks, 3 of which have won international awards, she has also written a book on textile and translated autobiography of noted actor Mr. Sivaji Ganesan. She has served with "Kalakshetra Foundation" and is a member of Craft Council of India. She co-founded Kai-Thari group on facebook to promote #60 handloom sari pact. Apart from being associated with many charities for artisan welfare , she is also the founder and Chairperson of "Udhavi", an NGO for eldercare. She is a columnist with many publications and also a textile and craft activist for 40 years now. Register to Join us on the 19th & 20th of August. WICCI Handlooms.. Stay tuned.
Age is Just Numbers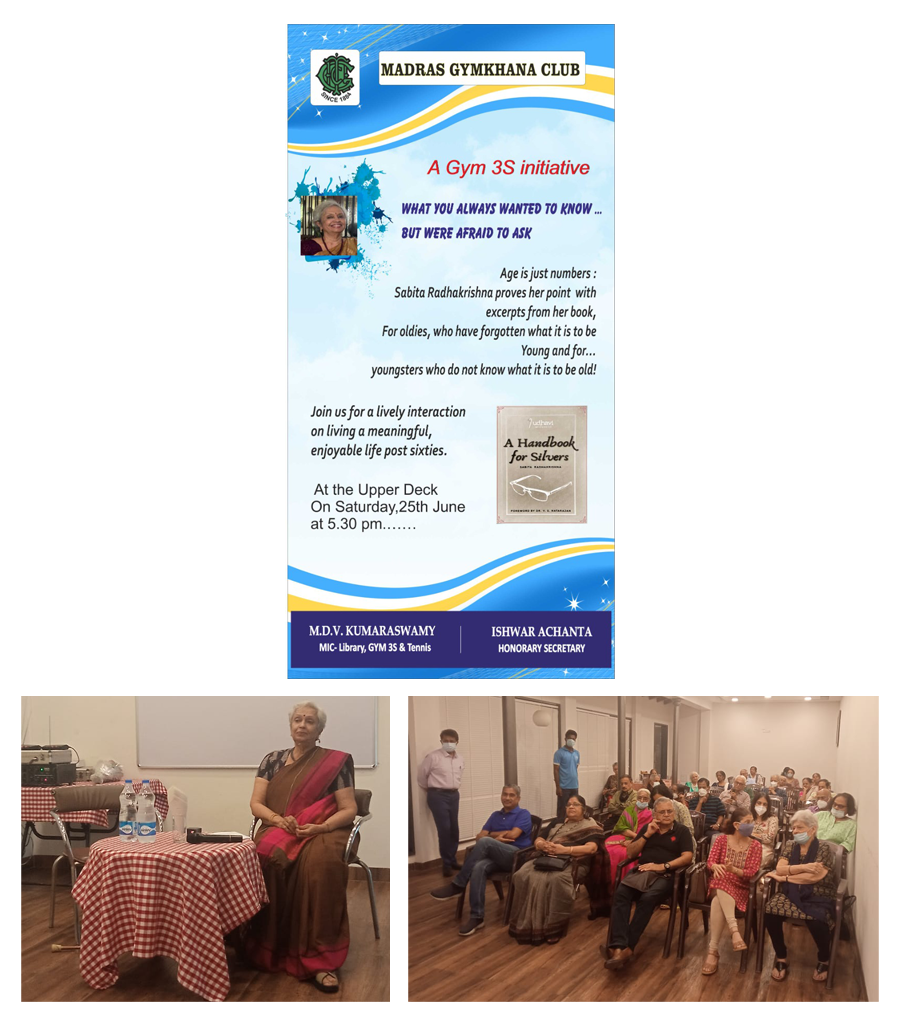 Sabita Radhakrishna addressed members of Gymkhana Club, Chennai on 25th June 2022
WICCI's National Conference in April 2021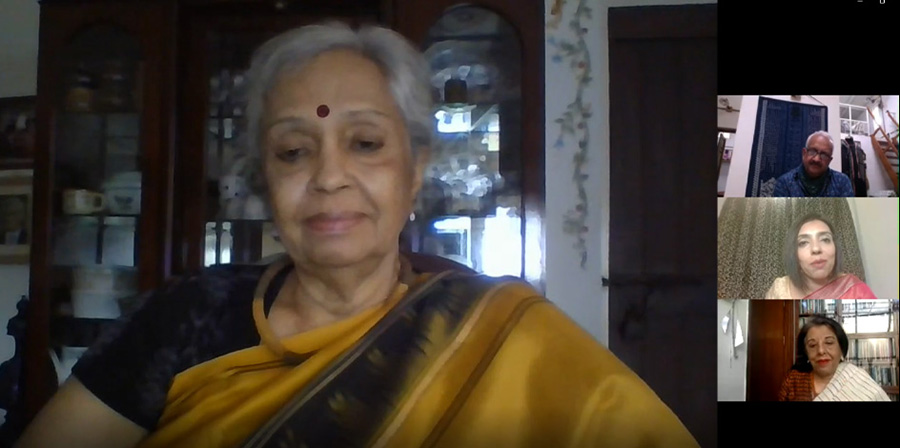 Sabita Radhakrishna was a panellist in WICCI's National Conference in April 2021. The other panellists were Ritu Sethi of Craft Revival Trust Delhi and Pallav Chandra an entrepreneur who works with weavers and sells contemporary apparel under the label Shoi from Kotagiri.
Sabita Radhakrishna: National council member of WICCI ( Women's Indian Council for Commerce and Industry) whose main concern is Indian handlooms and the weavers
Award for Social Welfare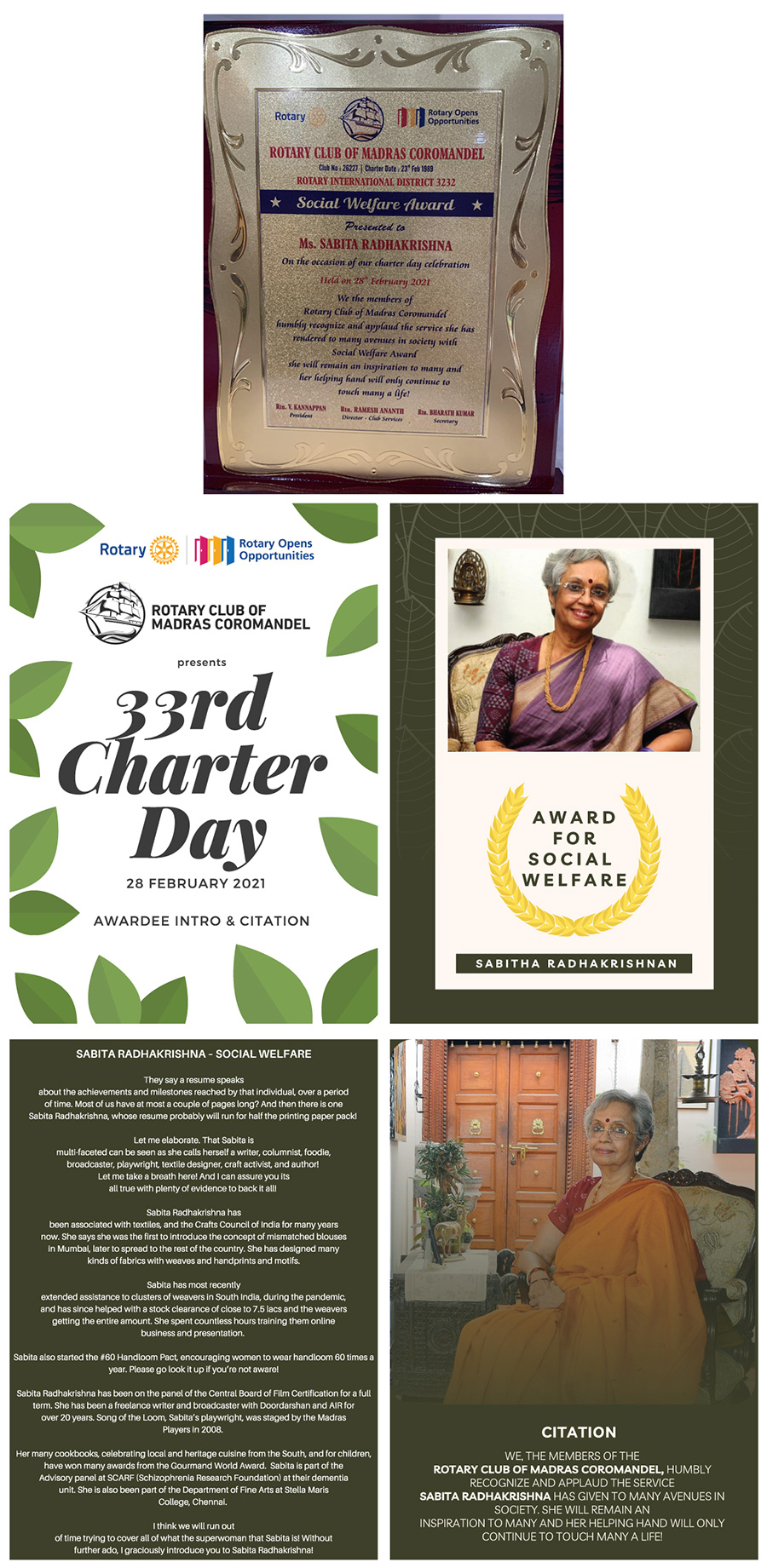 When you are working for the underprivileged, your only reward is smiles on their faces when you accomplish what seems an unsurmountable task. You have no expectations. I don't. Suddenly like a bolt from the blue I get this phone call about the award I am going to receive....no one is more surprised than I.
At a beautiful function at Hyatt Regency on Feb 28th 2021 I am conferred this honour by the Rotary Club of Madras Coromandel. I humbly accept, if only to spur me on to greater heights, if only to inspire others to offer themselves in a spirit of service.
Rotary Club of Madras Coromandel
33rd Charter Day Celebration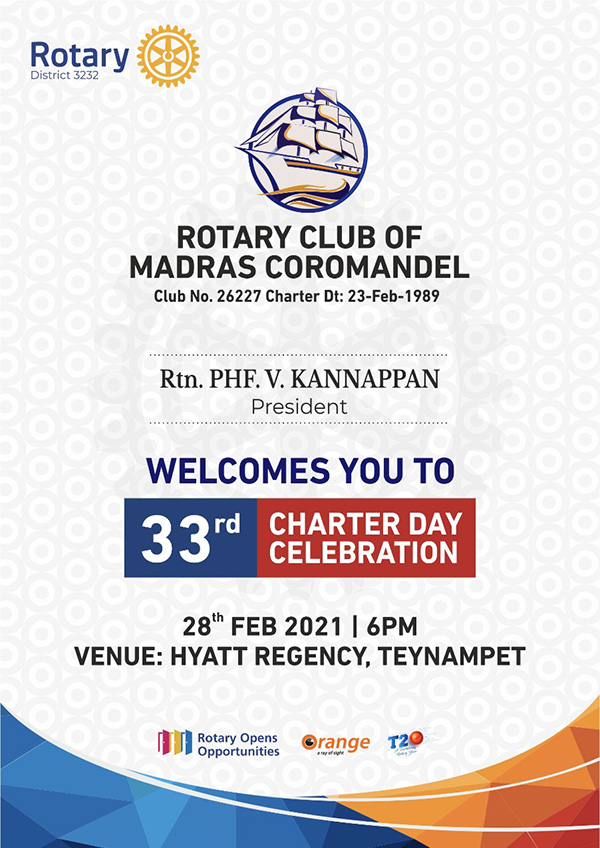 Rotary Club of Madras Coromandel 33rd Charter Day
Re-visioning The Knowledge Lifecycle Colloquium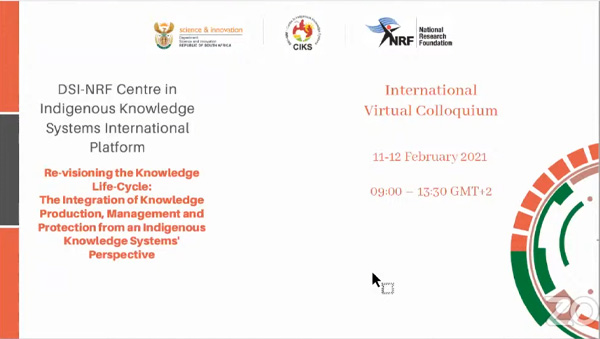 The DSI-NRF Centre in Indigenous Knowledge Systems Durban University Republic of South Africa invited Sabita Radhakrishna for a panel discussion for the first session. She represented India using her expertise on textiles and food to confirm the integration of Knowledge Production and Management and Protection in Indigenous Knowledge Systems from her perspective.
The seminar participants were invited from across the world. The panel discussions centred around Epimistemic Disjunctures and Harmonies, Documenting and Digitizing Possiblilities and Creative and Community Based strategies.
Thread Talk
28 February 2020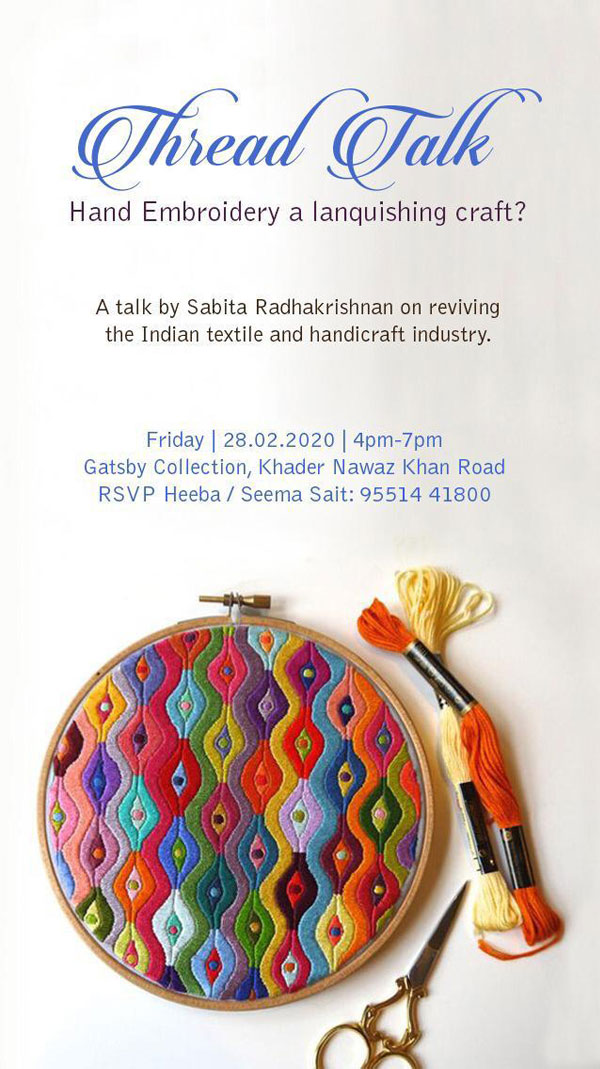 The talk was informative and interactive with the 40 odd women who attended
Madras Book Club Invitation
25 February 2020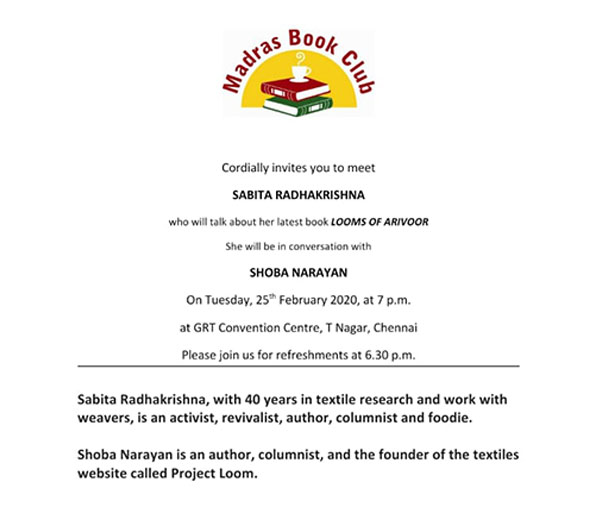 Hyderabad Literary Festival
24-26 January 2020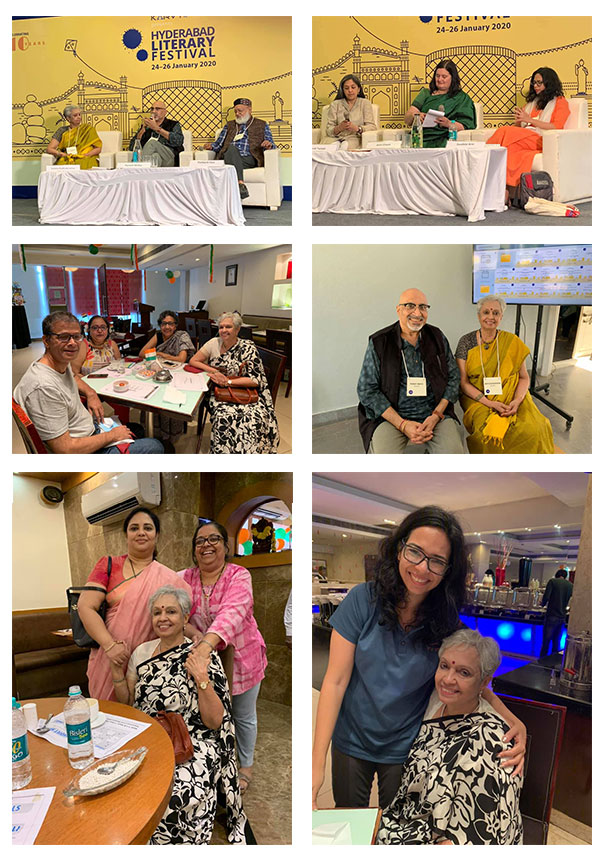 The Hyderabad Literary Festival is a prestigious international event organised annually in January. This year Sabita Radahakrishna was invited to participate and the theme of her session was "We are what we eat". Sabita says "It was wonderful......lost touch with.". Sabita's co panellist was the distinguished Padma Shri Pushpesh Pant foodie and author of many books. Their session was moderated by Puneet Mehta a foodie himself and well informed of culinary routes.
It was wonderful to be among 150 writers, artistes, scholars, journalists, authors and publishers who represented a wide range of creative minds.
The experience was stimulating meeting old friends and colleagues whom she had lost touch with.
Looms of Arivoor Book Launch
Egmore, Chennai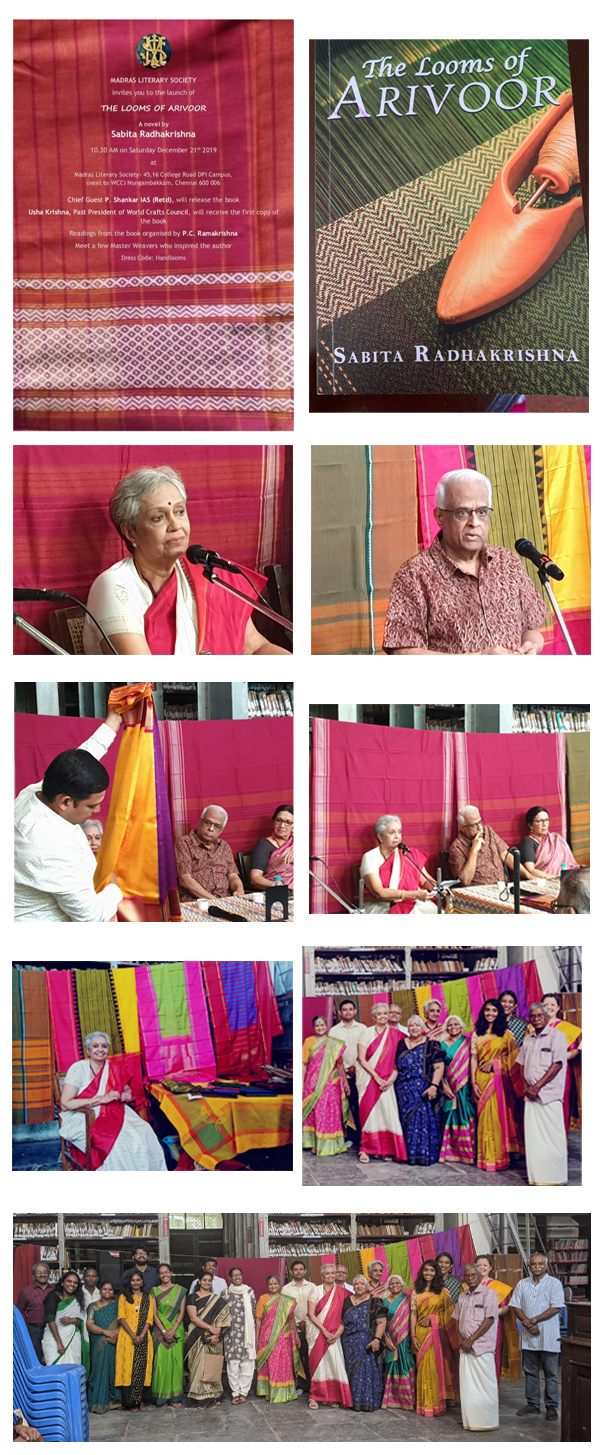 The Looms of Arivoor a novel by Sabita Radhakrishna was launched at The Madras Literary Society,Egmore, Chennai in December 2019. P. Shankar IAS (Retd) was Chief Guest and the 1st copy was received by Usha Krishna,Past President World Crafts Council. Autographed copies are available with the author.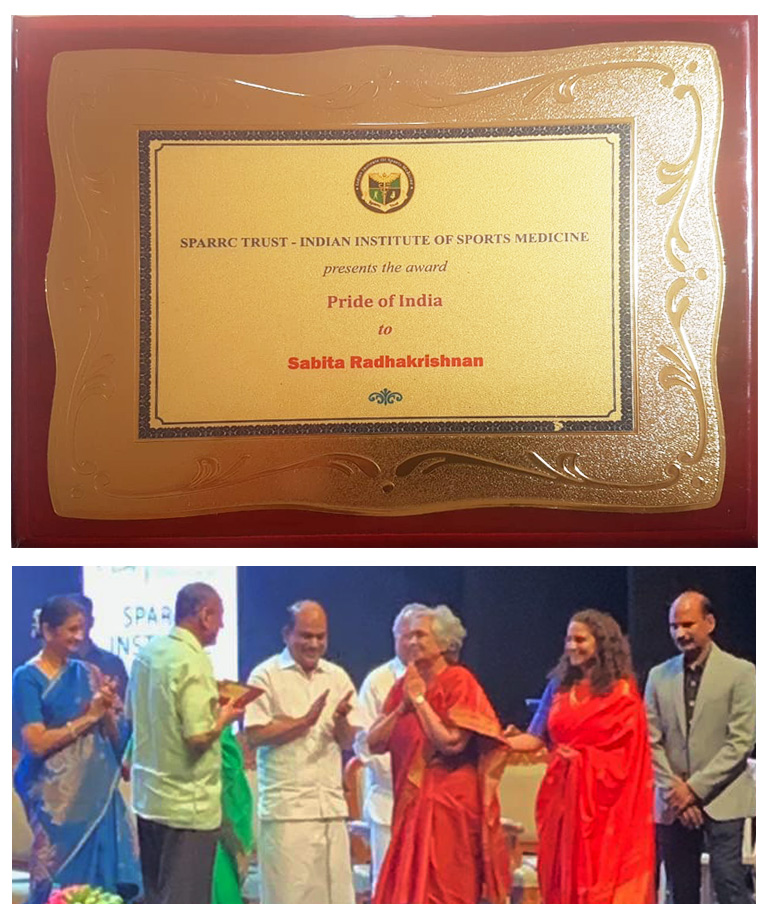 SPARRC had a gala evening at Sir Mutha Venkatasubba Rao Concert Hall, to celebrate the release of the book Fitnesse written by Dr Kannan Pugezhendi. The Chief Guest was the Honourable Governor of Telangana and Andhra Pradesh Mr ESL Narasimhan accompanied by Mrs Vimala Narasimhan Lady Governor. There was a musical extravananza by playback singer Mr Srinivasan and a conversation with Dr Pugazhendi on fitness by Radio Mirchi Fame RJ Shaw. A few eminent citizens of Chennai were honoured and one of them was Smt Sabita Radhakrishna, and the Award called Pride of India, which was presented to her by the Governor.
SABITA RADHAKRISHNA SPEAKS ON THREADS OF TRADITION

UDHAVI SPEAKS ON TRENDS AND CHALLENGES IN ELDER CARE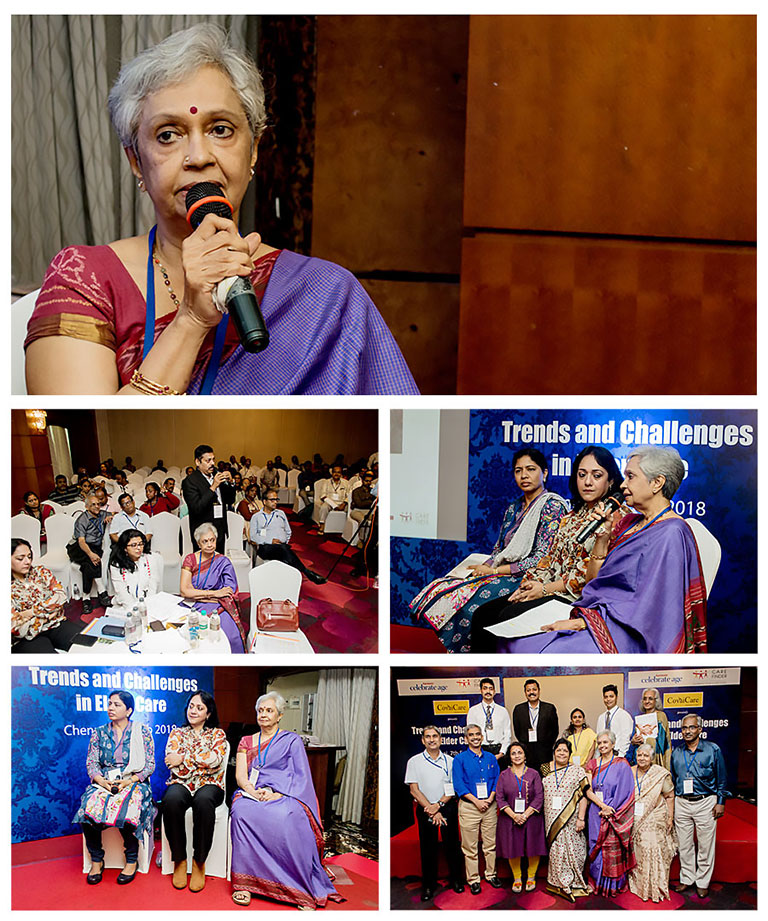 On 7th February 2018, Ms. Sabita Radhakrishna, founder Udhavi spoke at the seminar on trends and challenges in living. She spoke on the topic of Loneliness to a large audience that comprised of NGO's, Senior associations, Builders, Architects, Medical Professionals, Academia etc.,
She briefed the audience on Udhavi and the work it did. She spoke about the core group and the battery of enthusiastic volunteers. She praised the work they did, as it did not give them money or glamor. It gave them something more. She said that the best payments Udhavi received were the word of appreciation from an elder, whom Udhavi helped She touched upon the need for care and compassion for elderly . She said Udhavi's USP was stave off loneliness. Money is the lowest form of charity according to her. It's the time, efforts and care that makes a difference to the lives of people.
She quoted the United Nations Population Finding that India will have over 20 percent of its population in the elder category by 2050. She said that loneliness was the most difficult thing in life. The sounds of loneliness are deafening reflecting the emptiness syndrome. She spoke about elders and mindsets. She said that elders need to dress well and be confident. She quoted her role models were her husband and mother, who till their end, lived their life with zest and energy. She said that networking was very important in the work we do and meeting like-minded people is something Udhavi always seeks
Celebrating Handlooms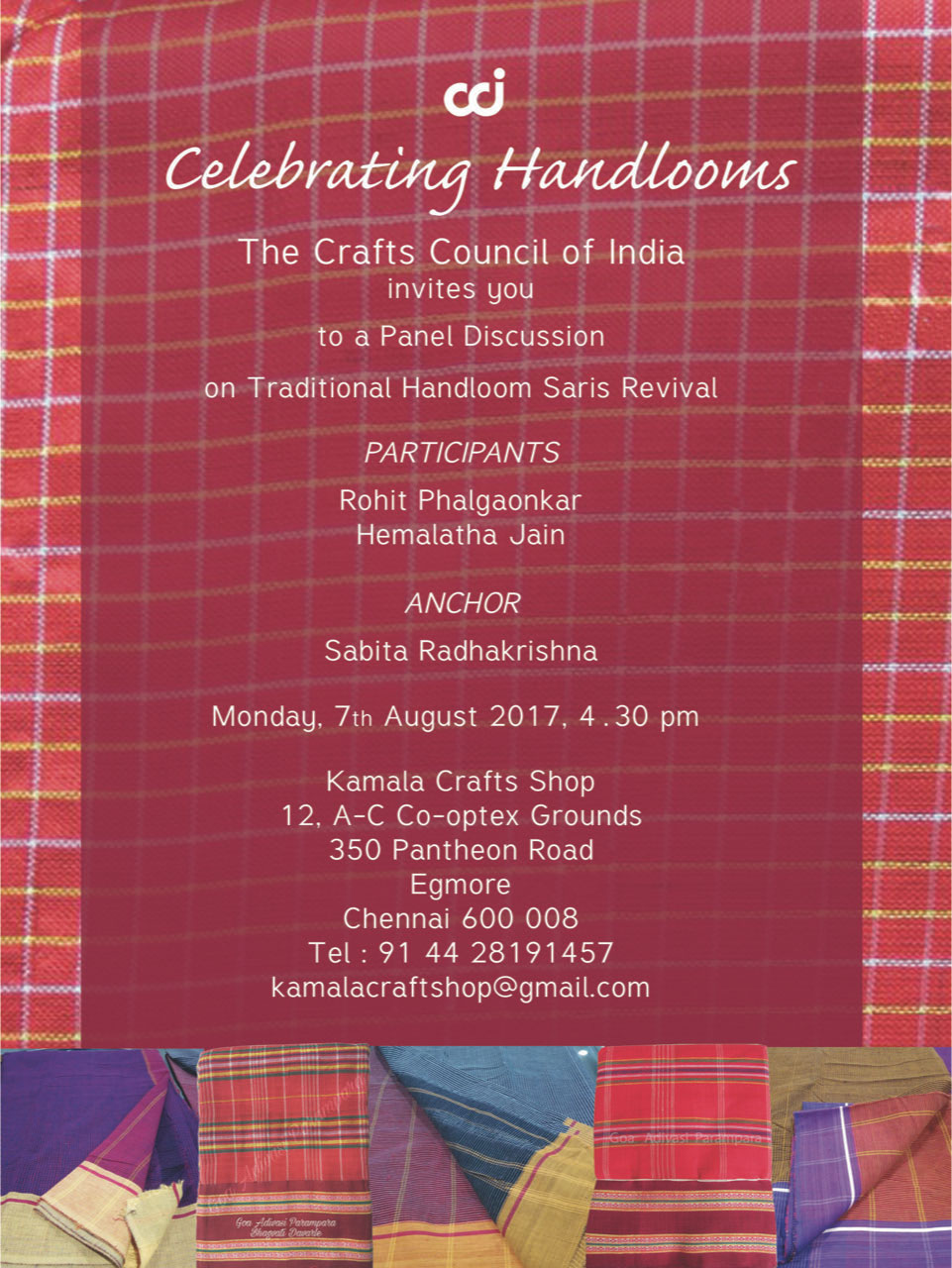 ---
Ms. Sabita Radhakrishna, founder – Udhavi awarded the Probus Award of Excellence - 2017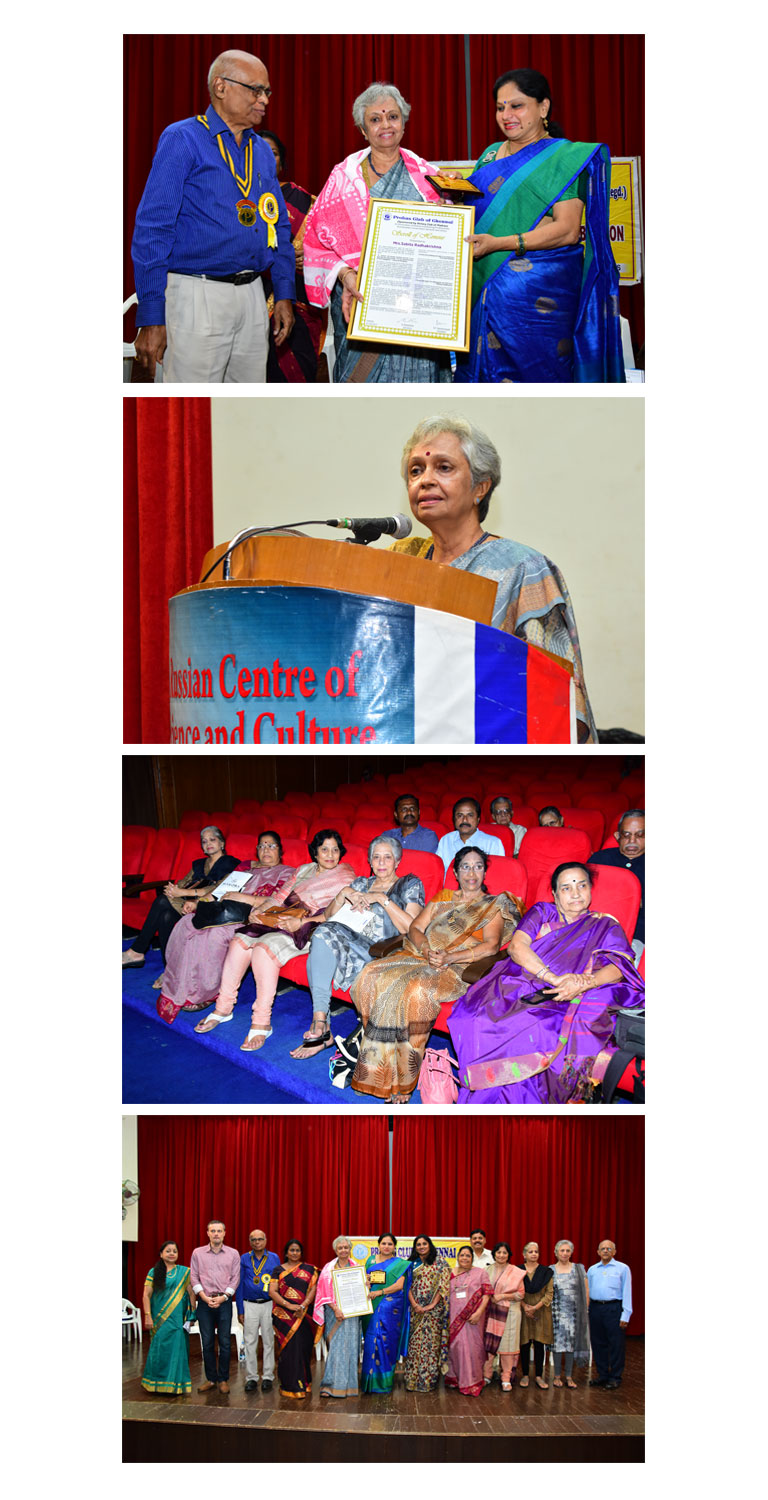 As part of the International Women's day celebrations, the Probus Club of Chennai – awarded the "Probus Award of Excellence – 2017" to Ms. Sabita Radhakrishna, founder of UDHAVI.
The function was held at the Russian Centre of Science and Culture on 7th March 2017.
Mr. Mikhail Gorbatov – Director Russian Cultural Centre of Science and Culture, Proban R.T.Namasivayam, President of Probus Club of Chennai and Proban N. Rammohan, secretary of the Probus Club of Chennai were part of the awards ceremony.
The scroll of honor given to Ms. Sabita on the occasion highlighted her contributions to the society through UDHAVI and also her contributions to the textile industry, specifically to the upliftment of economically weaker artisans.
In her acceptance speech, Ms. Sabita thanked team UDHAVI and said that this was an award she is receiving on their behalf. She contributed her success to the support and encouragement from her husband and mother. She said that a smile in the faces of the beneficiaries of UDHAVI is the motivation that energizes the team.
The Probus Club of Chennai ( sponsored by the Rotary Club of Madras) is an association of retired and retiring professionals, businessmen, government servants and others.
---
KANCHEEPURAM DOORS OPEN TO CELEBRITIES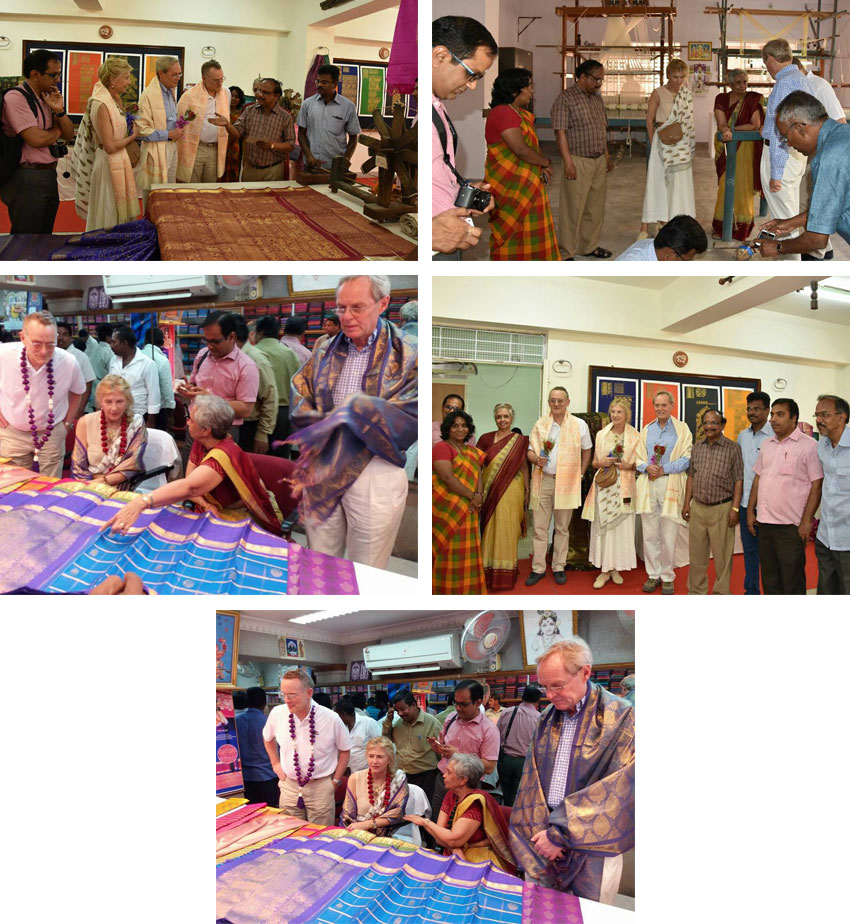 Its not often that you get to rub shoulders with celebrities like the Duke and Duchess of Wellington and more importantly show them our treasured textiles against the backdrop of Kancheepuram with its layered history of temples and silks.
A wonderful couple they soaked in everything I had to say as my friend Manick showed them round a temple with its carvings which was an inspiration to design on pattu sarees.
The magic of the looms unfolded before them as the artist the weaver sat in quiet concentration involved in his own taal to create masterpieces in silk. We saw the warp stretched on the streets not a common sight any more. We saw hanks of brilliant coloured silk yarn and women loading them on to bobbins.
The Duke and Duchess walked through a display of traditional silks not able to resist a few buys. We were tired but happy as we left the showroom.
As for me it was a welcome break after 6 months of hibernating...and I felt honoured to be chosen to accompany them....I felt humbled as usual to see the master weaver at work. may he never abandon his glorious vocation.
---
A TEXTILE STORY FOR DIGNITARIES
As if all the excitement of visiting Kancheepuram was not enough, Lord Peter and Lady Suzanne Ricketts visited our home. He was the British Ambassador In Paris, and they both came across as such wonderful people, warm and appreciative. The Queen of England stayed with them on occasions!
They had lunch with us, and were delighted to meet my mother. They wanted a demo of what I had cooked, and after enjoying every dish on the table and expressed I their appreciation. I took them through a textile discovery through my own collection of fabric and textiles, and gave them a power point presentation of national textiles.
They were intrigued and went into ecstasy at the breathtaking variety of Indian textiles, and how each state has its own textile vocabulary. I never pass up a chance to show off our country to those who visit India...and the joy was as much mine as theirs...
---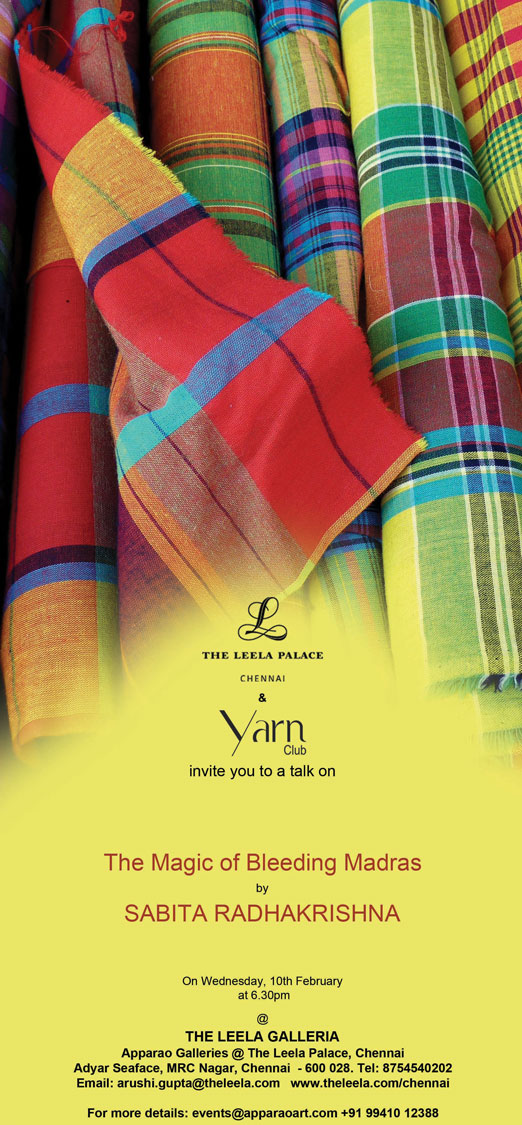 ---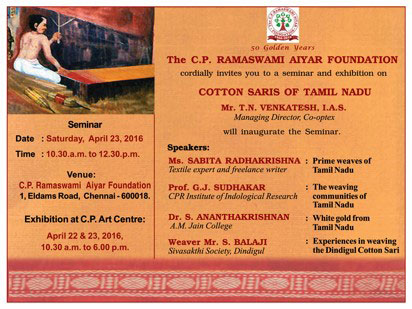 ---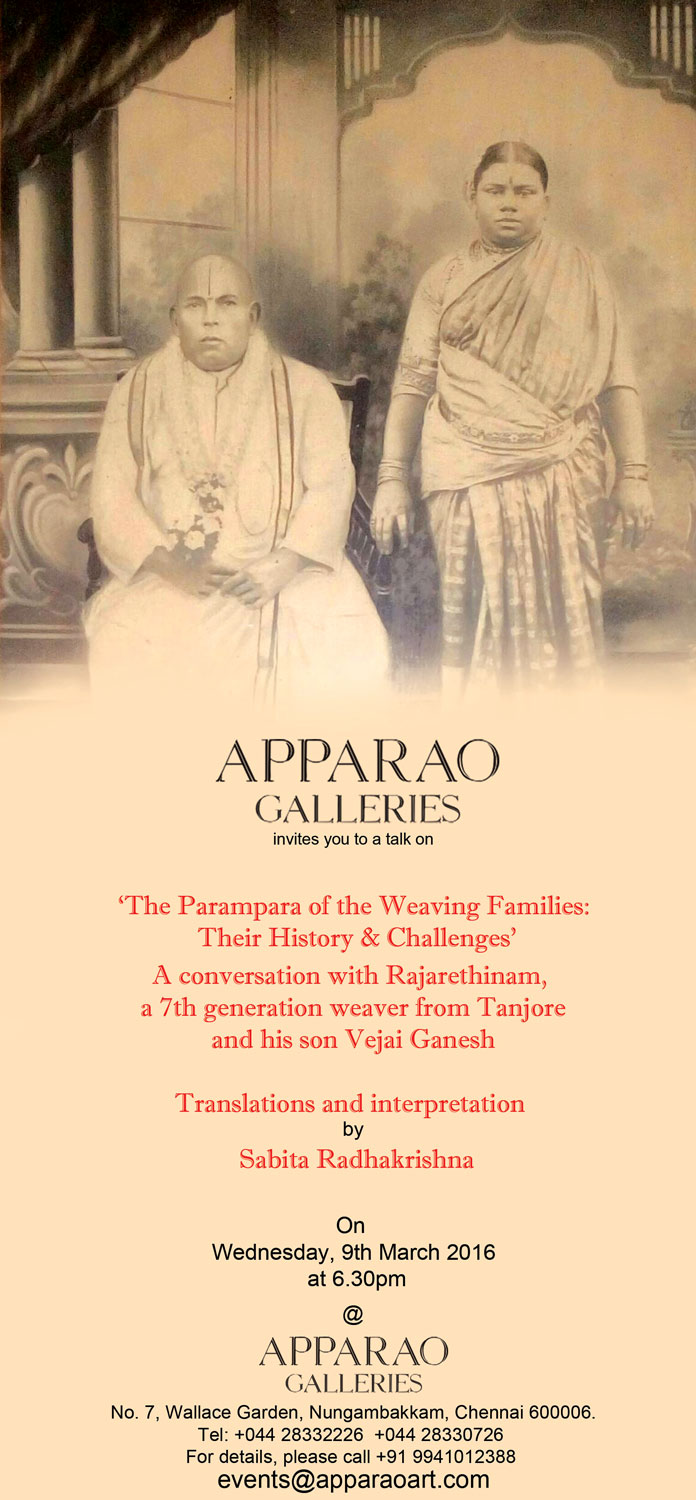 ---
Orissa Literary Festival 2015 on food writing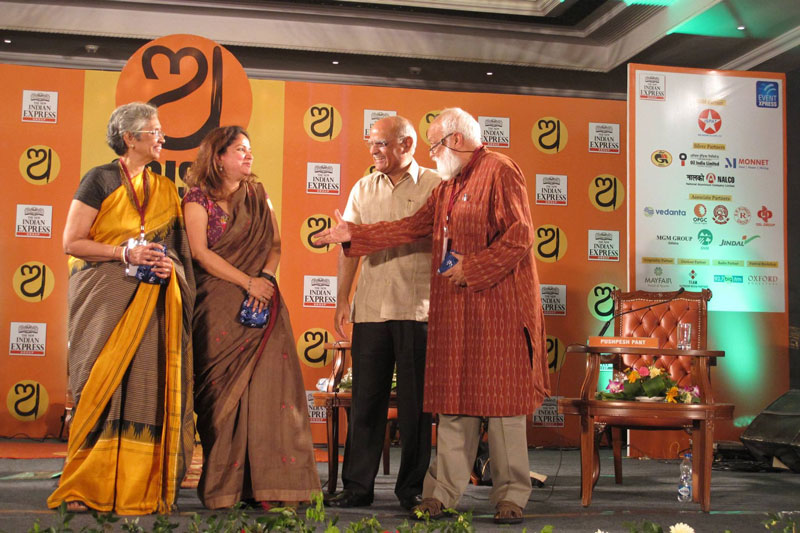 Sabita Radhakrishna was invited to speak at the Orissa Literary Festival 2015 on food writing. The other panellists were Priya Kapoor publisher Roli Books, and Pushpesh Pant, Author and well known foodie. The event was efficiently conducted by Shampa Kamath and attended by luminaries from the literary world, with eminent speakers.
---
RECIPE RENDEZVOUS
A TASTE OF TAMILIAN CUISINE AT KUTCHINA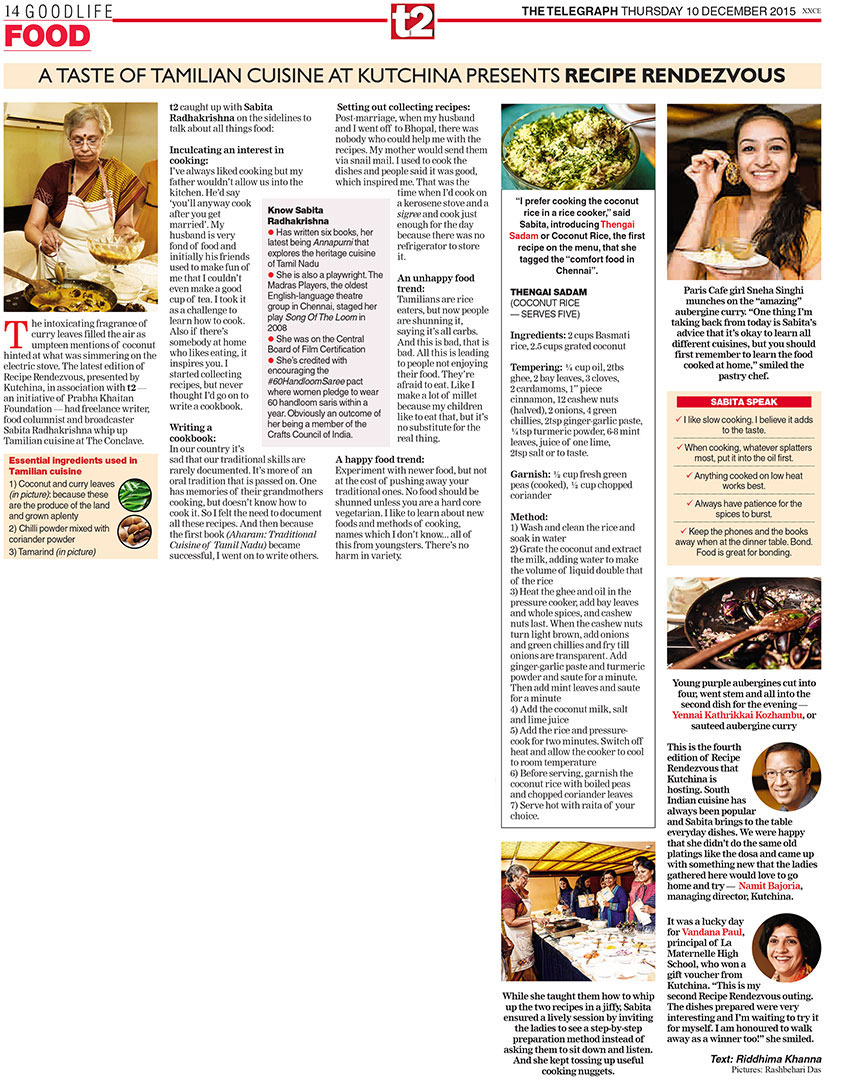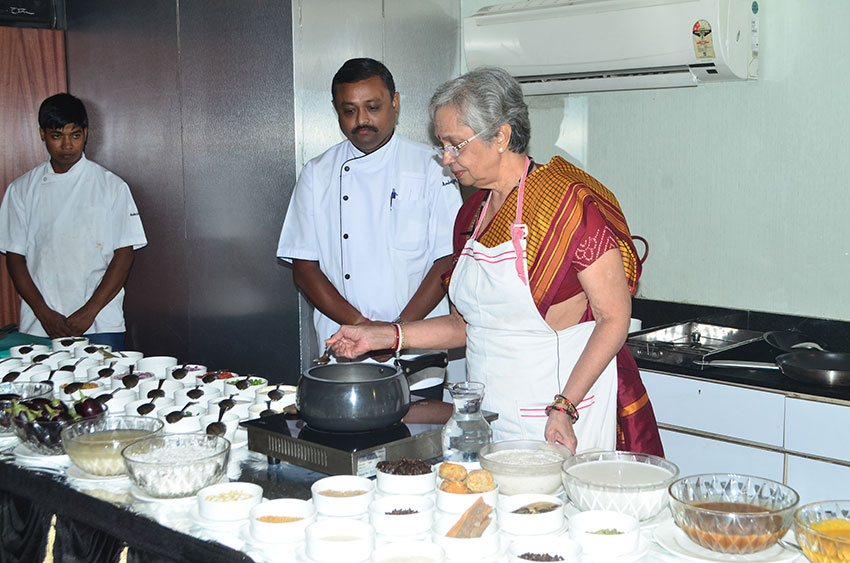 ---
CELEBRATING NATIONAL HANDLOOM DAY - August 7th 2015
Kai Thari's 1st event is on August 7th, 2015 in celebration of National Handloom Day.
Mrs. Sabita Radhakrishna will give a talk on Saris of India to handloom enthusiasts. The venue is Gallery Sri Parvati at Alwarpet from 5 p.m. onwards. Invitation enclosed in a separate attachment.
Launched on Facebook on May 24, 2015, Kai Thari's membership has grown to 1,500 members in just over 2 months.
Kai Thari aims to:
• spread awareness of handloom sarees / textiles and curate events
• record and archive information on various weaves of India
• collaborate with like-minded people in the field
• organise trips and tours to weaving districts, and
• connect group members to weavers/co-operative societies/craftspeople directly
Kai Thari happened when Sabita Radhakrishna announced a '60 Handloom Saree Pact' on May 23rd inviting women of all ages (particularly between ages 25-45), to join by wearing handloom sarees to appreciate the same.
Sumita Pai felt that a focussed group could be created and maintained so that women are comfortable sharing pictures within an enclosed space on social media. Her keen interest in the handloom industry was propelled by the Government's decision to repeal the Handloom Act in April. This was later withdrawn based on online petitions followed by an appeal from MP Kirron Kher in Parliament.
Further discussions with Sabita (alongside the two of them appearing on a radio interview for Chennai Live 104.8 FM on May 7th, and being featured in Mangayar Malar's August 1st issue, in connection with the 100 Saree Pact) led to Sumita starting the Facebook group.
With Sabita Radhakrishna's support (Chennai's well-known author, playwright, broadcaster, Crafts Council of India member and supporter of textiles for over 30 years) and Sumita Pai (freelance writer and editor) managing the group, Kai Thari hopes to create a renewed and sustained interest in handlooms.
It might just be a drop in the ocean, but it is still a drop! There is growing curiosity among group members (especially the 30's age bracket of women) to learn about India's handloom weaves.
The industry is in the limelight once again with Benaras being PM Modi's constituency, the 'India Handloom' brand launch with Ritu Kumar, Shaina NC and others working to revive dying weaves, and so on.
For more info, contact: Email - kaitharichennai@gmail.com / Phone - 9962163567
---
ANNAPURNI….Book Launch June 19th 2015
Sabita Radhakrishna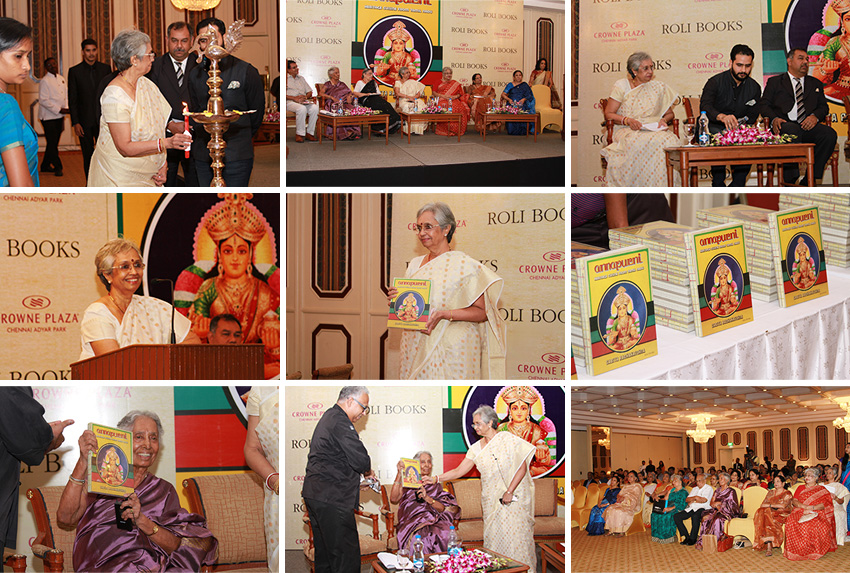 As a traditionalist, I love all things ancient..be it craft, textiles, food or even people. Heritage properly preserved has an aura of the exotic, and, when the years pile on, they are layered with history, and little known facts. When I relied on my mother to send me recipes of dishes which I have enjoyed from childhood, it dawned on me that documentation of heritage recipes were important before they languished.
It was much later that I decided to document my mother's recipes and that of others which worked so well along with the tips that went with them. Today thanks to the modern kitchen technology, cooking age old recipes is no longer a chore, and I confess I have tweaked the recipes a bit to make life easier for aspiring cooks.
Rather than make the recipes merely Tamil centric I thought I would tap other communities to gather some valuable family recipes from people who are good cooks. The Mudaliar chapter is well stocked with recipes thanks to my mother. I took recipes from the Vellala Christians, Kongunadus, Tamil Muslims, Naidus and Anglo Indians who lived for generations in Tamil Nadu adapting local cuisine as part of their repertoire. I added a little bit of community history for each chapter, and the book with its 110 odd recipes gave a glimpse of what each community offered by way of traditional food. The whole idea, is that this exercise inspires people to put down the recipes handed over to them from generations before they are lost in the annals of time.
And the challenge was photographing the dishes, and here I was given support by the then Park Sheraton, now Crowne Plaza Chennai Adyar Park which co-hosted the launch event of Annapurni recently. My publishers, Roli Books, brought out Annapurni, Heritage Recipes of Tamil Nadu, scrap book style, to go with my penchant for tradition.
About 200 invitees graced the function. Gayathri Kumaresan did an excellent job of knitting the events together and was the MC for the evening. Speakers included Arindan Kunar MD of Crowne Plaza Chennai Adyar Park and Kapil Kapoor Director Roli Books who specially flew down for the launch. I gave an introductory talk on how Annapurni happened, and the Chefs Praveen Anand and Harish talked about their association with me, Abhay Kumar who gave the book the mouth watering food photographs also spoke.
I honoured the contributors, by inviting them on stage and to recount their respective forays into cooking. What emerged was a mosaic of interesting experiences. My mother Smt Leela Chander received the first copy of the book and was labelled star of the show by the audience! She spoke about the days when she had scant culinary knowledge and regaled the audience with little fun anecdotes.
Pradeep Radhakrishna gave the vote of thanks.
We had the hotel serve, along with cocktails, miniaturised versions of food cooked from the recipes listed in the book.
The vegetarians were treated to adai cigars with pudina chutney, served on a fork, kuzhiappams in chai glasses with vadagam chutney, puli vadai cakes served in coconut shells with coconut chutney, drumstick semolina curry on spoons, yam crispies in paper cones.
A different feast was laid out for the non vegetarians. Brussels sprouts were stuffed with lamb mince, and served in chai glasses, omelette dumplings were cooked in panniyaram moulds and served in mud cups, meat kababs on skewers, the show stopper was crisp fried prawns, and the welcome thayir sadam served in martini glasses, sprinkled with masala boondi and accompanied by varthal kozhambu served in ink fillers! Kudos to the creativity of the chefs in the hotel.
The hotel announced an Annapurni Food Festival in the first week of July.
---
Sabita held the post of Secretary Literary Hub of Madras Gymkhana Club for three years, where she organised play and poetry reading, interviews with successful authors, book reading, and talking to people in the news.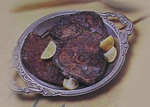 In August 2010 did a mammoth cooking session along with the cooks, at the kitchens of Park Sheraton Chennai, 25 dishes for 30 people from 11 am to 7 pm! This was a kind of demonstration for the chefs from Sheraton Hotels from across India, and at the end of the evening there was a buffet dinner comprising of all the dishes made, and the chefs plied her with questions and enjoyed the menu.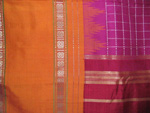 Sabita was invited to talk at the Madras Club on Kancheepuram Textiles for the Madras Week in August 2010. Sabita's talk was illustrated by visuals in a power point presentation. This was repeated at the Business Meet of the Crafts Council of India at Harrisons Hotel.
​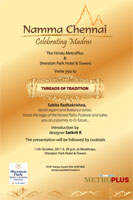 Sabita presented a programme on Pattu Podavais...traditional silk saris of Chennai with a power point presentation called Threads of Tradition in October 2011 at the Sheraton Park Hotel and Towers at the invitation of Hindu Metro Plus for their Namma Chennai Series.
Namma Pattu
Geeta Padmanabhan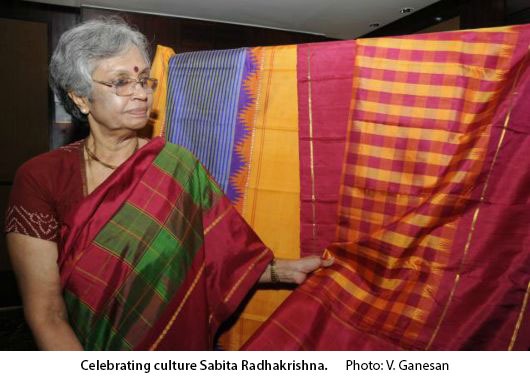 "Threads of Tradition", a presentation by textile activist Sabita Radhakrishna, was the second in the Namma Chennai series, an initiative by The Hindu MetroPlus and Sheraton Park Hotel & Towers
Kancheepuram idlis, delectable athirasam, sundal on leaf cups and brass-filtered coffee; copper venneer thavalai and kolu dolls as corner décor and Sabita Radhakrishna as the chief presenter; the topic could only be pattu pudavai, that symbol of grace and grandeur in Chennai's gatherings. In its second edition of the Namma Chennai meet, a very interested group assembled in their Kancheepuram best to know about the Kanchi heritage and its fabric of international fame.
"Pattu is not made of just threads, these are dreams of the weavers," said Sabita, in a flawless presentation that traced the history of traditional pattu weaving that journeyed into Kanchi some 400 years ago. With stunning pictures as supporting material, she traced pattu's history, its patronage from the local deities and kings. She gave the audience a glimpse of the magnificent sari collection of Rukmini Devi Arundale whose crafts centre at Kalakshetra makes those beautiful Kalakshetra saris.
"River Palar flowed in Kancheepuram and its pure waters covered the threads with fine sheen. This patina along with the quality of weaving, weight and durability made Kanchi pattu a must-have in Tamil weddings, gave the textile a niche it so richly deserves," Sabita went on. Woven into the pattu's history are these facts: Kancheepuram allowed space for the spread-out weaving, had close-knit families and water in the form of Vagvathi. It blossomed when the local deities wore the hand-woven silks and cottons, when the royals gave it patronage. In Kanchi, religion and weaving melded, hand-weaving was done with a sense of bhakti. All activities of the household, preparing the dye, loading the bobbin or twisting the thread, went on around the loom that was the centrepiece of the house. All the members were engaged in the creation of the masterpieces. In an oral tradition, the "secrets" of the art were passed on in a father-son lineage. It was in that sense a truly cottage industry.
Low returns
But all is not well with the industry now despite the crowds at the stores, said Sabita. Saris are not worn regularly and those who wear them choose synthetic yards over Kanchi cottons and silk. Even at weddings, the preference has shifted to other "dresses".
Weavers have started encouraging their children to look for occupations with guaranteed income and job security. Those who still weave have moved on to hybrid threads where wages are higher. Weaving these saris is hard work and the returns are low.
"This beautiful art with its wealth of designs will languish," said Sabita in a fervent appeal to the audience. "Don't let it die. Buy a few, patronise them." She had suggestions for making Kanchi cottons and pattu a contemporary high-fashion fibre. "Traditional weaving could be a studio craft, weavers can be trained and paid a salary and the yardage can be used to make what this generation prefers to wear, for modern silhouettes." It can be used for furnishings and accessories, anything, as long as the craft is kept alive."
Anaka Narayanan, the young designer/boutique owner of Brasstacks, is keen to make that experiment. "Sari is figure-flattering, I love the silhouette, like the aesthetics of the handlooms," she said. "But to me, design is about what the market wants." Having tried hand-woven material in her designs, she promised to introduce Kanchi silks and cottons to the young as everyday wear.
Also present at the venue was Vijay Ganesh, a seventh generation weaver who has been persuaded by Sabita not to give up his craft. He didn't have to say much. The saris from his family looms in Thanjavur were part of the surrounding décor. Stunning in colours and traditional borders, they got the women leaping to have a look at the end of the presentation. "Exhibitions in metros have not been successful. Their only salvation is to hitch their wagon to young designers," said Sabita, making a final request. "Don't melt your old saris for their silver," she said. "You can use them to replicate the designs. The craft is irreplaceable."
Pattu
* Pure zari is red thread wrapped in pure silver and dipped in 24-carat gold.
* "Korvai" is when the border and pallu are woven separately and then into the body. The fine weaving between body and border makes the joinery invisible. Here Pallu and border contrast with the main colour.
* It takes a week to a month to weave a pattu sari.
* The setting up of a loom costs Rs. 80,000 and an extra Rs. 10,000 each time the design changes, so order 3 at a time.
* Heavy saris weigh 700-1000 grams.
Powerpoint Presentation on Textiles
On October 30th, Sabita gave a 40 minute power point presentation with 60 visuals to the International Women's Association(IWA) at Hotel President Chennai. It was a review based on Soha Parekh's book Splendour in Threads on Saris.
Romance of the Indian Sari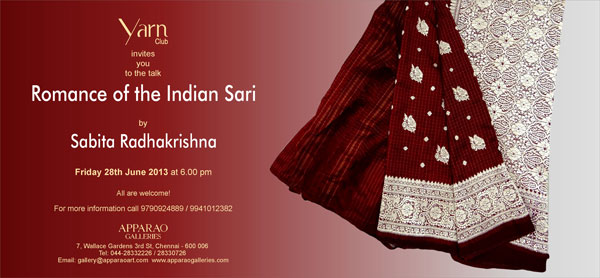 Book Discussion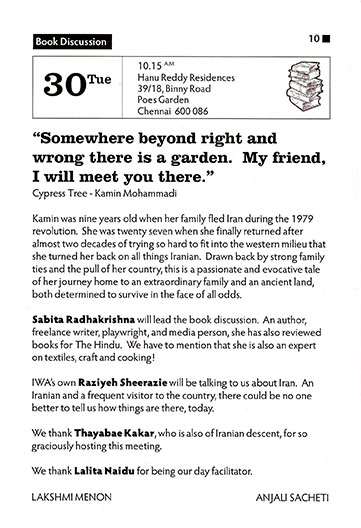 Appointed
Appointed Sub Secretary Gym 3S of the Madras Gymkhana Club
UDHAVI... networking for the elderly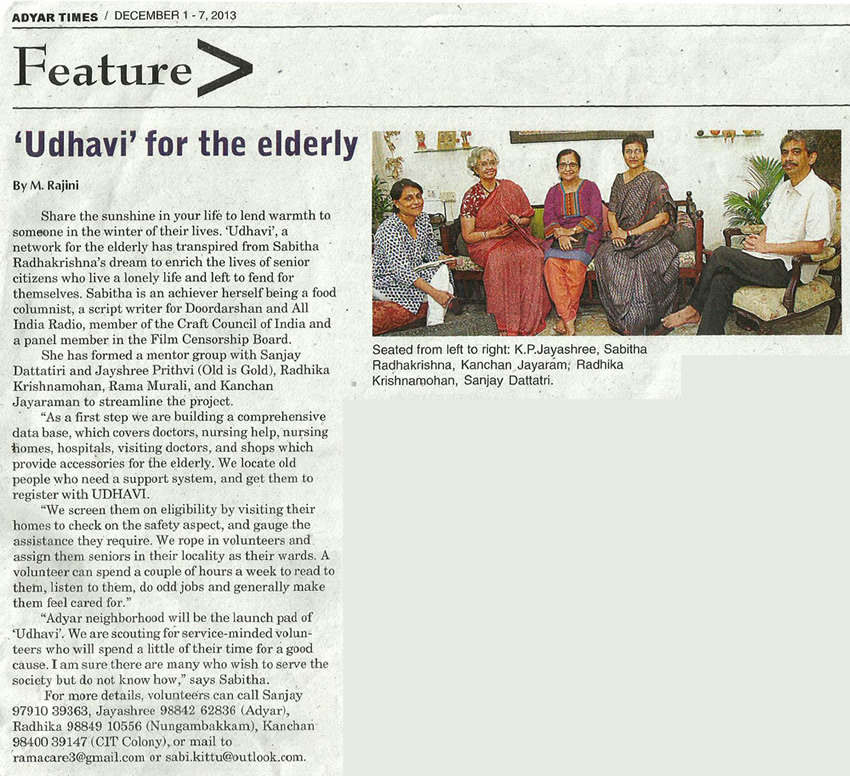 Kids Kitchen - Re-Published
Self-Published KIDS KITCHEN on Kindle Amazon. This is a cookbook for children aged 9-14 and can be read online Kindle.
Quick Cook...60 minute menus
Re-Published Quick Cook...60 minute menus with Partridge/Penquin (Random House Company).
Kodalli Karuppur sari
Initiated the revival of the Kodalli Karuppur sari at Kalakshetra a textile that was woven in the early eighteen century for the Maharanis of Thanjavur. The Karuppur sari disappeared since the nineteenth century.
UDHAVI
Started a initiative called UDHAVI care for the elderly with the help of 6 core group members and volunteer help. Adyar was set up as a model for UDHAVI and now the movement is spreading through Chennai.