Articles
Sabita Radhakrishna
Weavers Embrace Tech to Sell Wares

Would like to do the Indian version of The Karate Kid
Sabita Radhakrishna
Draping yards of heritage
Chitra Deepa Anantharam
The folly of the apartment
Sabita Radhakrishna
Forging ahead with the battle
Chitradeepa Anantharam
At a talk recently organised by the Crafts Council of India, three handloom revivalists discussed various issues faced by weavers
Handloom skills are unique to India, but the sector has dwindled by nearly 30% in the last 10 years. Intervention by NGOs has been effective but there are still many stumbling blocks for these revivalists.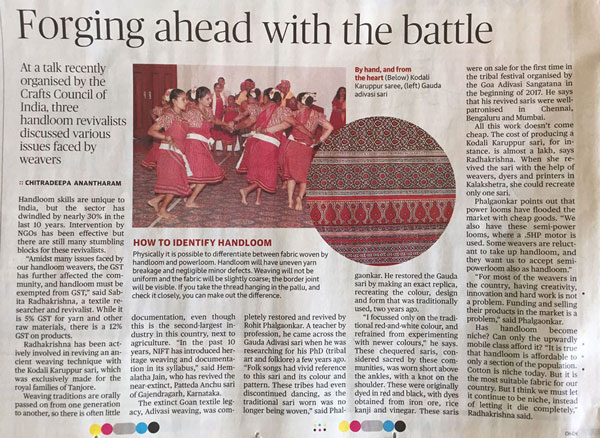 Power to the loom
Nidhi Adlakha
This National Handloom Day, we revisit a few of the country's forgotten weaves and those engaged in their painstaking revival
India's handloom story began as early as the 18th century and, till date, traditional weaves and prints are an integral part of the country's sustainable fashion movement. As we commemorate National Handloom Day on August 7, the upcoming Lakmé Fashion Week (LFW) will follow it up with the twelfthedition of its exclusive Sustainable Fashion Day (August 17), and a brand new 'Craft is Cool' line featuring five young designers and their collaborations with artisans working with handblock printing techniques like dabu, ajrakh, and tie-and-dye prints like shibori and bandhej.
At the heart of a celebration
Sabita Radhakrishna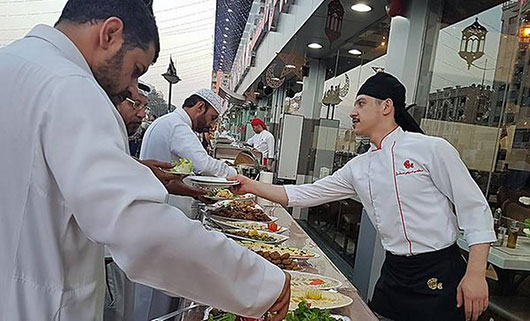 With its community-based initiatives to share food, the month of Ramzan in Dubai brings together people of different faiths
Being in Dubai during Ramzan is an experience in itself. The pulse of the festival and its associated traditions bring sharply into focus the truth that any religious festivity draws people together.
The sarees of the Gods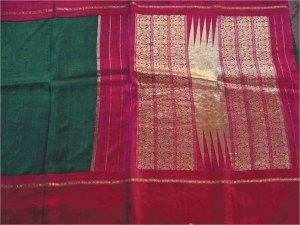 A footnote to our series on Kanchipuram is this story on
Conjeevaram, as the British called the city now Kanchipuram, nestles on the banks of the River Vegavathi, 100 km from Chennai. It is called Silk City, being famous for the Kanchipuram pattu (silk) sarees. It is also called the city of a thousand temples and considered sacred by Buddhists, Jains and Hindus (as seen in these columns over the past three issues).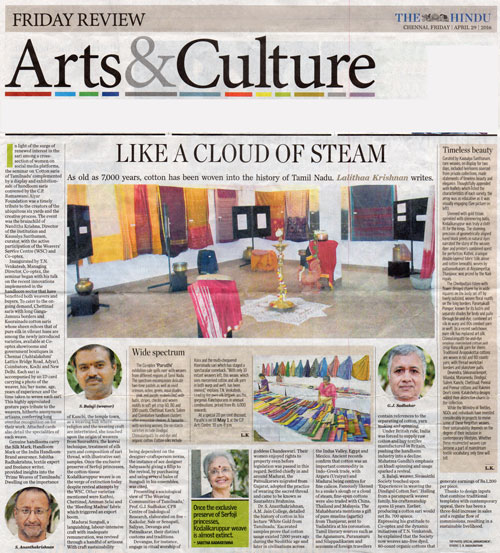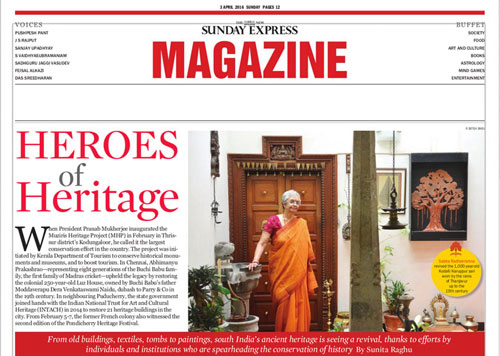 Interview in National News Papper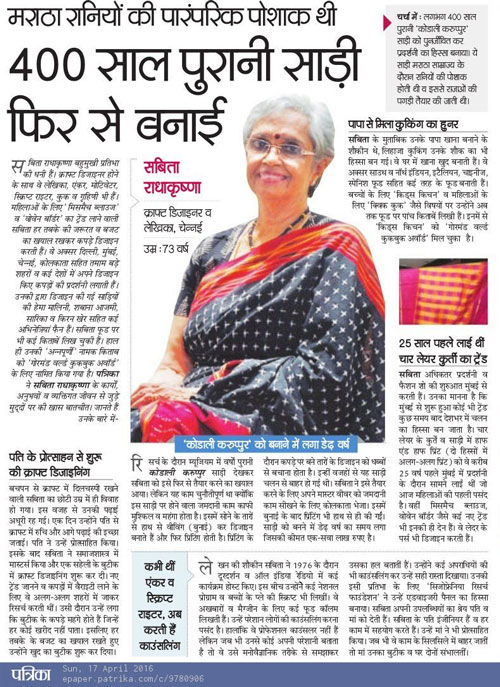 Sabita Radhakrishna was interviewed by Rajathan Patrika, Jaipur. 17th April, 2016.
Pocket Chennai September 2015

A feature by Sabita Radhakrishna in The Lonely Planet Pocket Chennai September 2015
Palatable Heritage
Weaving Jamdani Wonders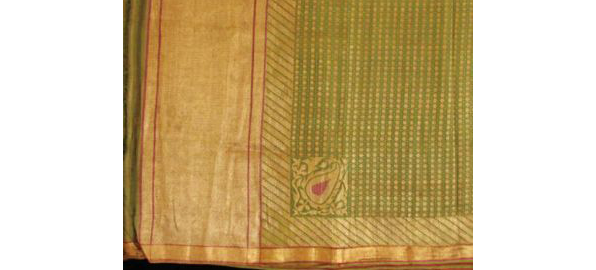 Communities of the weavers of Jamdani saris flourished with Mughal patronage in Varanasi. KAMALA, a festival organised by the Crafts Council of India, will showcase exquisite creations of Jamdani at the Lalit Kala Academy, Chennai, next month.
Apart from being the seat of culture with its poets, philosophers, musicians and textiles, what is prominent in Varanasi is the rich brocades, the soft jamdani and the versatile draw loom. The jamdani is a great technical achievement of Indian weavers and it means "loom-embroidered," truly one of the most exquisite products of Indian handloom fabrics. The word jamdani is of Persian origin – 'jam' means flower, and 'dani' means vase or container...
Reviving a Heritage Craft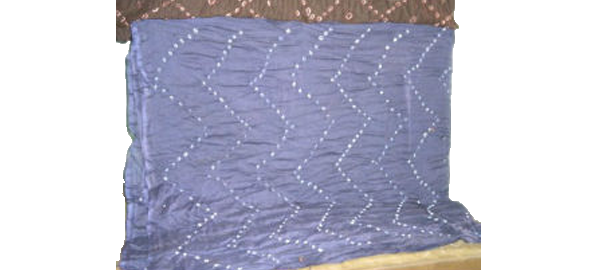 We, as the self-appointed guardians of heritage, zealously try to protect the vestiges of heritage in whatever forms – buildings, monuments, craft or textiles – which speak volumes of history, each a learning lesson for generations to come. Alas, most Indians do not share this passion. Take Chennai. Where do we have museums which showcase our rich tapestry of history? For instance, when we visited the museum in Pondicherry, I was pained to see the famed Arikamedu coins lying in a dusty glass case. So too were some old valuable paintings. This was a few years ago, and I hope things have improved. Why has the Museum in Chennai not given enough funding to showcase some of the finest craft and heritage textiles that we have? Yes, we have the finest of bronzes, but how are they showcased?
Most of the museums I have visited in the world showcase their heritage in a manner that just grabs the eyeballs. In Dubai, its history is so expressly recorded in its little museum that it is a joy to revisit it. Mercifully, however, some of us craft activists, while deploring the state of heritage consciousness – or the lack of it – in our country, are passionate about revival and resuscitating languished craft and textiles. Some of us work with leading craft NGOs like the Crafts Council of India, which today is a powerful apex body run by a group of dedicated, committed women.
Death knell for handlooms
Changing lifestyles and market structures mean that weaving is not a viable profession anymore. What's the way out?
Hand-woven fabric is the product of Indian tradition, the inspiration of the cultural ethos of the weavers. With its strong product identity, handlooms represent the diversity of each State and proclaim the artistry of the weaver. It is not thread al one but the weaver's imagery, faith and dream that create heritage fabrics which have undoubtedly placed India on the world map. Handlooms rank second only to agriculture as an industry. The handloom sector boasts of 3.4 million weavers according to a census conducted by The National Council of Applied Economic Research (NCAER) in the year 1995-96 whereas in 1987-88 it was 4.3 million and the drop of nearly a million is all too significant and in the present scenario rather bleak.
The Kancheepuram sari with its korvai designs may become a museum piece sooner than we think, so also the cotton korvai saris, with the weavers disinterested in weaving them. A cotton sari fetches the weaver Rs. 270 persari as against Rs. 2,500 for a silk sari. A master weaver in Kancheepuram quotes the example of an MNC which sends buses to pick up young adults who are the children of the weavers. Even if it is an unskilled labourer's job, he can pick up around Rs. 250-300 a day and what's more, there is "prestige" attached to a factory job! What's worse is that our Southern traditional weaves are being pirated through importing weavers from Tamil Nadu. For most handloom weavers it means sitting at a loom for 12 hours at a stretch and even longer if it is festival or wedding season. Many of those interviewed swear that they will not subject their children to work in a profession which drains them. Most of them develop orthopaedic problems and then it is too late to move to other professions when they are past the prime of life.
THE HINDU, 2007