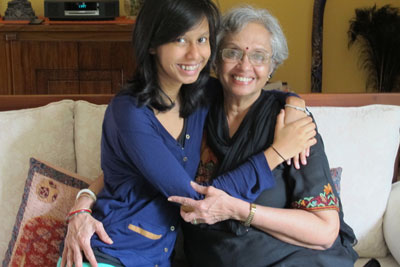 Sabita Radhakrishna is a free lance writer and broadcaster and was associated with A.I.R. and Doordarshan from its inception in 1976 as programme hostess, script writer for national programmes. Sabita has scripted and done voice overs for Government and commercial documentaries. Beyond the Storm a documentary on leprosy rehabilitation scripted by Sabita won Doordarshan its first international award by TRANSTEL (West Germany) in 1986. A playwright, Sabita's first play Under One Roof emerged after a playwrights workshop by Mahesh Dattani, and was read at British Council. Apart from small plays for children written for Doordarshan and directed by her, SONG OF THE LOOM is her first major play premiered in Chennai on March 21st, 22nd, 23rd 2008. A food, textile and humour columnist, Sabita has contributed to INBOX 1305, A La Carte magazine, and the Gymkhana Club Magazine.
Deeply committed to handloom textiles since 1972 Sabita Radhakrishna is a pioneer in the boutique concept in Chennai, and few can forget her Amrapali Boutique. Apart from three cookbooks one of which won the World Gourmand Award, Sabita's book on the Textiles of India is under publication. It is this passion for textiles and the grave situation which exists today for handlooms and weavers that drove her to pen Song of the Loom etc etc. Her book Raaga of the Loom on Indian textiles is under publication in Delhi.
Sabita has been an active member of the Crafts Council of India. She is also Senior Consultant at Kalakshetra Foundation's CERC (Craft Education and Research Centre). Having been deeply involved in craft for 30 years, she values her work with craftspeople and their welfare. She has been involved in loom projects for Crafts Council of India and writes extensively on craft and textiles.
Sabita regularly lectures to groups of American tourists on craft and textiles. She hosts typical South Indian meals for them and invites them to experience the "family" in her household, and talks about Indian culture and family ties, and food habits.
Sabita Radhakrishna lives in South Chennai with her husband and mother. Her son and his family live in Dubai. Her son-in-law and two grandchildren live in the same apartment building. She enjoys being wife, daughter, mom and grandmom!
She is a trustee for an educational trust…….right up to school level and for higher education.