Flower power to the fore
Contemporary expressions have enriched the ancient flower art of Thailand. SABITA RADHAKRISHNA talks to flower decorator Sakul Intakul to find out more about this craft.
Flowers are an expression of tradition, communication, joy, celebration and even sorrow. Places of worship are never complete without flowers. Thailand is a classic example of a country with a rich flower tradition. Floral art is an integral part of the celebration of life, royal feasts and religious ceremonies.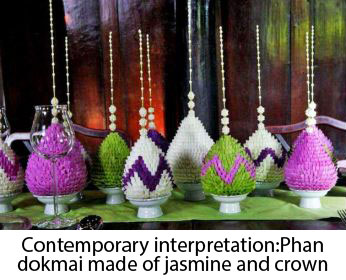 Sakul Intakul, an electronics engineer by profession, worked for a Japanese company in Bangkok for two years but got sidetracked when he completed advanced courses in European flower design at a Japanese flower school. Today he is a professional flower decorator with Her Majesty Queen Sikrit of Thailand commissioning his work. For 11 years he has offered his services to the Royal Court in Thailand. Intakul's vast knowledge has resulted in a book Dok Mai Thai:The Flower Culture of Thailand with Jirasak Thongyuak's mind blowing pictures of splendorous floral arrangements.
Garlands everywhere
As in India, malais are the most common flower feature in Thailand, and they can be seen everywhere, from the simplest malai at Pak Khlong Talad (Bangkok's central flower market) to the most intricate creations at the inner courts of the Grand Palace. Homage to elders and tributes to gurus is also expressed florally. Garlands are made with jasmine, light green dak khajorn, gardenias, orange jasmine, rose petals and patterned banana leaves sewn with flower petals.
In a beautiful Thai custom, the students follow the phithi wai khru ceremony to show respect to their teachers when the new academic year begins. The students prepare intricate floral arrangements set on pedestal trays, which follow the norms of symbolism called phan dokmai, a combination of flowers and incense sticks. Pink, green, white and purple dendrobium and orchid petals are folded and incorporated into the design.
Offerings are also made to the main image in Wat Ratchabophit Sathitmahasimaram's main temple. The breathtaking displays are made up of spherical masses of globe amaranths, closely knit together and secured to an inner clay structure with slivers of the dry skin of the salak palm. This phan phum looks like globe of gems held together by a trellis of buds and is balanced on cut-glass cups with a long stem.
Contemporary arrangements are as much a challenge as traditional ones. Intakul works with crown flowers, small gardenias and chrysanthemums to create floral strings hung close to each other to form delicate fragrant curtains. He uses white lotus flowers, crown flower finials, orchid petals and gardenias. The container is artistically draped with lotus leaf and tied with a string of small gardenias and ornamental crown flowers.
Memorable festival
The joint family system still abounds in Thailand, making it easy for the crafts tradition to continue. Elders teach children how to fashion their own toys from the mid rib of the banana leaves. Little girls deftly make dolls from lotus flowers, peacocks from crown flowers and fish from coconut fronds.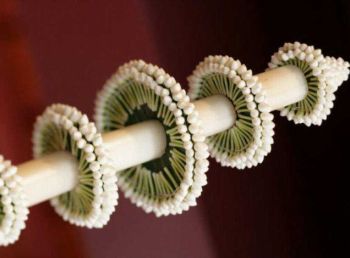 Each royal lady teaches her ladies-in-waiting the art of flower decoration, and they teach young girls who approach them for training. By the time they left the court, they were well equipped to pass on their knowledge to other young girls, as they did for hundreds of years.
I ask Intakul if flowers are imported. "Orchids like vanda, dendrobium, cattleya are locally available. So are jasmine, crown flowers, marigolds, and small white gardenias. Chrysanthemums, gladioli, roses and other temperate flowers are from cooler places like Chiang Mai, Kanjanaburi, and Khao Yai in Nakornrachasima. We also import flowers from China, The Netherlands, and Australia."
Is it frightfully expensive to order a floral arrangement for a special occasion? "It depends on the occasion. I have my standard fee. I think I am reasonably expensive!"
Whatever the cost, a floral presentation is worth a thousand words!
The Hindu - Magazine. 2011