SHE SELLS MOONSHINE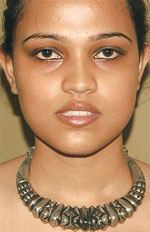 Mahua Sarkar Sen sells moonshine all of which is exquisite and exclusive. She likens her hand crafted silver jewellery to moonshine and coolness, which is why the tribal people wear it all the time, working as they do in the heated outdoors when the sun scorches their skin. Silver is supposed to impart a soothing coolness to the wearer. Mahua has been a silver collector, and has been opening her doors to people who might want to acquire them. She has been in this business for seven years or more.
She collects unusual pieces from tribal areas in Gujerat and Uttaranchal and fashions them into chunky necklaces, kaddas for the wrists and earrings. Not for her the silver of Orissa or Calcutta as silver filigree work dominates, and this is not her cup of tea. The varieties of hand crafted silver beads are interspersed with pendants which hold semi precious stones.. Little silver ghungoos are suspended from each pendant making the creation look gorgeously chunky. Mahua does not believe in selling (matching) sets, but believes in the mix and match trend which is so popular these days.You just buy a necklace from her, and use your ingenuity in picking the right kind of ear drops that would go with it. The purity of silver in Mahua creations is guaranteed which is why these accessories claim a price. Her small earrings and studs cost only Rs 400, and these are recently manufactured pieces, with the percentage of pure silver less as compared to the exotic heavy tribal jewellery.
Fond of collecting, Mahua has kept a few pieces of jewellery for herself and knowing the impracticality of hoarding everything she sells her pieces, but photographs each piece and documents the history of the origin of the jewellery.
The range of necklaces is wide, starting from Rs. 850 and going up to Rs. 5000. The chunky kaddas would work out to Rs 6500 or less. "With the price of silver shooting up I have been forced to increase the price," says Mahua apologetically. "While I keep the necklaces untouched in their tribal beauty, there are times when I find bits and pieces and string them according to my taste…though the theme is never wholly contemporary." It is the delightful melding of the old and the new that make buyers in her city Calcutta flock to take their pick.
There is value addition occasionally in the more beautiful pieces in the Mahua collection, enhanced by tassels, cords, and sometimes semi precious stones. While Mahua mainly sells from her studio at home, she holds exhibitions in Kolkatta, Mumbai and Delhi and they are usually a sell out. For the perfect ensemble, Mahua sets her jewellery against the coarseness of beautiful handloom saris woven from natural dyed yarn, and khadi blouse pieces, daintily embroidered. The saris and blouse pieces teamed with the exotic silver jewellery make the fashion statement at any party or gathering. "My clientiele includes celebrities from the fashion, art and literary circles…" says Mahua who is all set to feel the pulse of the Chennai elite in September.
Mahua decribes gold as a warm metal, generally worn by women who mainly stay indoors. For any function, she personally opts for silver teamed with her traditional saris which enhance her personality which can be best described as ethnic chic. "I don't have a fancy for gold," she confesses. Mahua Sarkar Sen will be exhibiting her creations at the Crafts Council of India Sale at the Chola Sheraton on September 5th and 6th this year. and this marks the first of her visits to Chennai. Hopefully there would be many more to look forward to.
EVE'S TOUCH. 2008