THAT VITAL DIP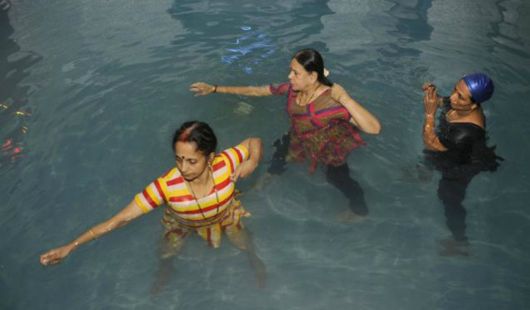 Aquatherapy or exercising in water helps a variety of people with their health problems, says well known sports medicine consultant Dr. Kannan Pugazhendi.
There are many facets to his healing: his touch, his therapy... I explore the avenues, one at a time. One extremely successful arm of treatment is aquatherapy, which has been the backbone of the Pugazhendi "stay healthy regime".
The indoor pool is warm, sparkling and inviting. It is a "women only" morning. Women arrive with walkers, canes and crutches. Some limp along holding a friend, terrified of falling on the water-drenched floor outside the pool. They are helped into the pool. Those who find it a terrifying experience are encouraged to hold the supports by the side and walk slowly till they gain confidence. Priya, the physiotherapist, stands at the edge of the pool guiding her patients. She teaches them how to walk, to march, do various kick exercises and squats. I revisit the scene after four weeks. The progress is incredibly encouraging. Most of the women are able to walk on their own and the ones who cannot have made at least 30 per cent progress.
As an eminent sports medicine doctor who treats injuries and restores normality of movement in patients as well as establishing maximum mobility, what made him turn to water?
Recovery without pain
It began with training R. Natarajan, a national-level sprinter diagnosed with two stress fractures on his shin bone as he was preparing for the selection trials for the Asian Games in 1994. Dr.Kannan Pugazhendi designed the mode of training and the exercises to be done in water to maintain flexibility, muscle tone and explosive strength without causing pain. "High knee action and stretches in water resulted in a speedy recovery without any pain. I broke my own national record at the Asian Games in the 100m and 200m," says Natarajan.
Recently diagnosed with a tear in his right Achilles tendon, Natarajan sought Pugazhendi's guidance, though various specialists had said surgery was the only way out. Three weeks of aquatherapy, which consisted of walking in water and ankle and toe movements completed the healing process without the ordeal of surgery.
Who are the patients ideal for aqua therapy? Almost everyone. Dr. Kannan has treated patients with acute knee pain, those who cannot afford surgery, those suffering from osteo-arthritis, osteoporosis, rheumatoid arthritis Bharatanatyam dancers...
Of course, there are some whom aqua therapy will not suit. Cardiac patients need to get an all-clear from their cardiologists. The coolness of the water (even in a place like Chennai) chills the body and the heart has to pump harder to even out the circulation. The heart should not go into shock at this effort. A person not used to swimming or water is advised to start aqua therapy for five minutes and increase it slowly to one-hour sessions. At least initially all exercises need to be done under medical supervision or by trained physiotherapists.
Actor Anushka swears by aquatherapy, which she claims got rid of her knee pain in a few weeks time while strengthening her muscles without straining her knee. Dancer Surupa Sen describes that Dr. Kannan motivated her recovery from back pain and knee pain which many dancers suffer from. "Aqua therapy enabled a greater range of exercise and movement, which sustained my fitness over a longer period of time. That was by far the most beneficial treatment to help me stay flexible and strong throughout the recovery period," she says.
The body weight is reduced by 90 per cent in water and the buoyancy makes even the more difficult exercises doable. For instance persons with knee problems are generally advised not to squat. In water, one can do all this and more without discomfort or injury. Even jogging is permissible. The exercises are very specific to each person and each person needs to work out under an exercise prescription. You don't need to know swimming to undergo aquatherapy.
Enjoyable experience
Watching persons in the thick of it, I am convinced the experience is very enjoyable. "The initial problem was getting the women to shed their inhibitions and get into water," says Dr. Kannan. The reluctance stemmed from having to wear a swimsuit. The resourceful doctor got permission from the authorities concerned to allow the women to wear clean salwar-kameez or tights and half the battle was won.
The ideal candidates for aqua therapy are the geriatric population. Those with ataxia (which causes loss of balance) find their limbs are strengthened and they are steadier on their feet during normal walking. Those with respiratory problems are greatly benefitted as compressed water exits exhalation. Muscle tone is improved for those with hypertrophy. It is indeed a mega treatment even for those who have undergone bypass surgery, with the consent of the cardiologist, of course.
The exercises seem gentle and easy, but the after effect is mind boggling. You begin with a warm up, as in any exercise regime, then begin exercises. Half an hour of aquatherapy is equal to an hour of walking or workouts in the gym. According to Pugazhendi, after the initial healing takes place in the case of a limb fracture, aqua therapy restores, maintains function, and enhances mobility. "Of course where nothing else works, surgery is the ultimate answer, in certain cases, and I don't rule this out entirely," he says.
Any new developments in aqua therapy? "I am constantly devising new methods, which might prove to be beneficial," says Dr Pugazhendi. I am trying out yoga and pilates in water, which will improve the entire musculo-skeletal system. This will help to strengthen bone mass. Kalari in water is the next experiment, and pranayama in water should be really beneficial in assisting the mental and physical progress of the individual."
If this, as the good doctor says, improves the quality of life, swimming pools should be easily accessible to the populace. And if pools can be reserved for women, the response will be greater, most Indian women cannot come to terms about sharing a pool with men. Though it is wishful thinking, an indoor pool will attract more women, as the fear of getting exposed to sun is dormant in them!
Any non-formal method of healing, which eliminates the trauma of surgery, will always be welcome to patients and fitness freaks to whom wellness is a big factor in good living.
Benefits
Due to the water buoyancy, exercises are easier
It is almost 'a return to the womb' feeling, and a snugness and confidence once patients get used to the water
You carry only 10 per cent of the body weight, so doing exercises is much easier
There is uniform omnipotent pressure in the water, and the weight bearing joints are faced with minimum load
The muscle mass is improved and, with regular workouts, the gait is improved
The writer is a Chennai-based freelance writer and author. Email her at kittsasbi@dataone.in
HINDU-HEALTH-FITNESS. 2010