EXERCISING TO LIVE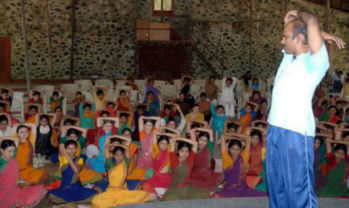 …is the right way, says sports medicine consultant Dr. Kannan Pughazhendi, whose approach to sports injuries, orthopaedic problems or age-related disease is "not to allow pain to dominate".
Visit the YMCA grounds at Nandanam, Chennai, early in the morning and you will be charged with the enormous energy of vibrant, electric movements generated by 500 students in 60 acres of ground. Young people sporting track suits and T shirts, running, walking fast…enjoying the pure morning air and an unpolluted open space. Some more in the swimming pool, splashing around as they exercise…
Peer closely and you find they are older people, some of them exercising with physiotherapists under the guidance of Dr. Kannan Pugazhendi, director of the Fitness Foundation Academy, YMCA College of Physical Education. Apart from sports persons, arthritic patients, or those suffering with orthopaedic problems due to injury or age related diseases visit the place for treatment.
Sport was always a passion for the young Kannan, right from school days. An MBBS from the Madras Medical College, Pugazhendi trained in Sports Coaching at the Madras University and developed his specialisation further by completing his Masters in Sports Medicine, at the University of New South Wales, Australia in 1999 and became Health Fitness Instructor, in 2003 at the American College of Sports Medicine.
An eminent Sports Medicine Consultant, and one of the few in the country, Pugazhendi opened other Sports Medicine Centres (SPARRC) in Chennai on popular demand.
Different set of skills
"Sports medicine is not just about an injury, it encompasses physiology, psychology, biomechanics, pharmacology, biophysics...," he says. "It's not just about injuries being set right, it's about rehabilitation which demands a different set of skills and is a very difficult requirement, which has to be studied in depth." In the West, this is a billion dollar industry. However, in India, hospitals rarely have fitness or rehabilitation centres attached to them. Sports medicine is not really recognised or given the prominence it deserves.
Dr. Pugazhendi has been a part of international and national sports events travelling with the Indian cricket team on their West Indies tour, Indian hockey team for Atlanta Olympics, the Indian rugby team to Bangkok besides others.
A common misconception is that being a specialist in sports medicine means dealing with sports injuries. "Injury is only one part of the picture. I have the advantage of being good in sports myself, and I train sportsmen, run with them, and keep pace, training their bodies to prevent injuries and, yes, when it does happen, deal with the complications."
Believing that every formalised exercise activity needs training, he trains Indian dancers, preparing them scientifically for the rigorous practices that they go through. He is honorary consultant at John Britto's Academy for Modern Dance, Kalakshetra College of Dance, Chennai, and Nrityagram Odissi Dance Academy, Bengaluru. He is honorary consultant for the Police Training College and The Tamil Nadu Commando Training College as well.
Danseuse Dr. Vyjayanthimala Bali says Dr. Pugezhendi and his team keep her physically fit. "I watched him treat my son for a bad back…no traction, no pills, only exercises. I had such a bad arm pain, couldn't dance or even tie my sari. It disappeared after I religiously followed doc's exercises. He is a magician!"
"The dancers benefit from his training and advice," says Leela Samson, Director, Kalakshetra Foundation. "He is the best!"
"My stunt injury was excruciatingly painful," says Anu Hasan, actor and TV anchor. "Doc has this ability to reinvent exercises and make workouts fun. He is brilliant when it comes to setting injuries right."
At a recent gathering, Dr. Pugazhendi addressed the elders, the 60-70+ age group, stressing the need to keep moving and not let diseases let them slide into a passive state and "letting go", allowing pain to dominate. The right kind of exercise reduces pain, lowers blood pressure, improves health for those suffering with diabetes, high cholesterol levels and osteoporosis. The fear of being fragile drives people into a shell and away from exercise.
John Devasirvatham, his oldest patient, is 86 years. He runs a marathon, and wins bronze medals and is disappointed that he hasn't struck gold!
We watch a video of another lady in her late sixties, crippled with arthritis, at one time and walking briskly today after aqua therapy and other exercises. "Only because she is committed to getting back on her feet, regular with her exercises and extremely disciplined," quips Pugazhendi, "I can only show you the way …the rest is your effort."
The onus is on schools to prepare children to inculcate sports and active training into their routine, so that it becomes part of their lives. These days when the distractions of electronic devices and media are plenty, it is even more important to get out of the home and work your body.
"Mothers need to give their children sensible food. Overeating is the bane of our lives and we, in India, specialise in eating far more than is good for us and, as a nation, we are too lazy to exercise."
"Kalari, or any other martial art for that matter, is about the pursuit of perfection. It is about harnessing your aggression to evolve into a better human being," says the doctor who enjoys this form of martial art.
Anu Hasan, who has been learning kalaripayattu, says, "What fascinated me most about kalari is the inherent grace of the art form. The movements felt more like dance."
Holistic healing
Pugazhendi is open to all holistic forms of healing, whether it is Pranic healing or Reiki, homeopathy, Ayurveda, Siddha or varma. Yoga is not enough these days because it is not practised the way it should be. It has to be coupled with daily discipline, with austere food habits, which was why the rishis were so successful in achieving the near impossible with their strict regime.
A word of caution, though. People with severe ailments, need to consult their respective specialists before submitting to exercise. Visit his Poes Garden Clinic, Chennai, and you meet people past their prime and many stricken with arthritis.
A conservative doctor Dr Pughazendi believes that surgery should be the last option. His success rate? I would say 85-90 per cent. Nothing like exercise to keep fit and nothing like friendly nudges to begin the regime, after which you get hooked, like me!
HINDU-ARTS-MAGAZINE. 2010