Holistic in every sense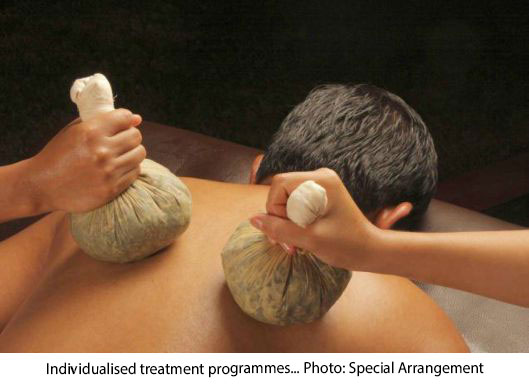 Often mistaken for a spa, SOUKYA: The Holistic Health Centre in Bengaluru integrates traditional and modern systems of healing to create individual treatment programmes for those ill in body and mind.
From his days as a young medical student, Dr. Isaac Mathai had a dream, which was translated into reality by his pretty wife Suja Isaac. With her meticulous detailing, a natural flair for design, aesthetics and administrative abilities, Dr. Mathai's SOUKYA: The Holistic Health Centre was established in Whitefield, outside Bengaluru. With no formal training in architecture or interior design, Suja designed and landscaped the 30-acre estate and organic farm as well as every building on the premises with inputs from her husband.
The buildings are in traditional Indian style with South Indian inner courtyards and handcrafted roof and floor tiles, with extensive use of local granite, thatched roofs and Gujarati mirror craft. The piece-de-resistance and my favourite space is the Yoga Hall for quiet meditation and asanas. The black oxide floor feels cool on bare feet and the grass circular roof confers a rustic touch. When you register at SOUKYA you strip yourself of all pretensions, and surrender yourself to nature and allow the healing to flow through your entire being.
Eco-friendly ideas
The focus is on ecology and, supporting their ideals, eco-friendly systems are employed. Solar water heaters and energy-saving devices such as rain water harvesting, drip irrigation and organic composting support the 200 plants in the aromatic Ayurvedic medicinal garden that provide fresh ingredients for the naturopathic treatments. The in-house oil production centre satisfies about 60 per cent of the centre's needs. The organic farm produces vegetables and fruits; even the honey you spoon on your porridge or cereal is organic. Suja Isaac, M.Phil. Foods and Nutrition and currently working towards a Ph.D., organises the entire menu for the guests.
As a young man, Isaac lectured in France, grappling with the language and depending on his communication skills to get the message across to an intelligent audience that different forms of healing can be integrated to show better results. After training at the Hale Clinic, London; Harvard Medical School, the U.S.; and China (in Chinese Pulse Diagnosis and Acupuncture), he returned to India to establish his own Holistic Health Centre, which treated the person and not the disease.
Most maladies begin with the psychosomatic and lead to chronic disease. "We counsel the patient, bring in psychologists and psychiatrists where necessary, augmenting it with yoga for discipline and exercise, meditation and pranayamato calm the mind, and Ayurveda which lowers the severity of the diseases. We have addressed chronic diseases where patients have turned to us after all else failed like liver cirrhosis, acute asthma, cardiac disease, multiple sclerosis …the list is endless." Other complementary therapies like acupuncture, reflexology, acupressure ... are given where necessary. Diet counselling is part of the treatment. All this is possible only in a controlled environment for the ambience is important.
Dr. Isaac does not profess to be a miracle worker. He claims that he has restored as much normalcy as is possible given the nature of the disease. And where the case is decidedly hopeless, he advises the patients not to waste money and that he cannot help. "Allopathy and surgery cannot be sneezed at; one has to resort to it wherever necessary," he says.
It is SOUKYA's five-star ambience that make observers, journalists included, label it a spa and a resort. This Holistic Health Centre has received many awards under this category.
The Isaacs bristle at such references! There is criticism that the facilities are only for the rich and the famous. Undoubtedly SOUKYA's clientele belong to the upper crust and are charged for the international facilities and the treatment.
The Isaacs have recently established SAHAYA, a sister concern in the city, which delivers the same treatment and approach minus the SOUKYA environment and trappings. Costs are cut by more than 40 percent and there are inpatient and outpatient facilities.
The SOUKYA Foundation Charitable Trust was established in 1999 to support free clinics and embrace the needs of the four villages adopted by the Foundation.
The recent visit of Her Royal Highness Camilla, the Duchess of Cornwall, created more than just a buzz in national and international press. The Duchess enjoyed the tranquillity of SOUKYA, the treatment, food and the service before she joined her husband for the Commonwealth Games inauguration. "She has expressed a desire to come back again", says Suja Isaac. She experienced holistic and integrative medicine that includes Ayurveda, Naturopathy, Homoeopathy, Yoga and a few complementary therapies.
Dr. Mathai's relationship with the British Holistic Medical Association dates back to the 1980s, in which the Prince of Wales is a patron and a great advocate of Integrated Medicine. A unit is to be shortly opened at the Royal College of Medicine in London as we go to press, and the Isaacs are the only Indian invitees. One campus of the college is proposed to be in Bengaluru in collaboration with the SOUKYA Foundation.
Impressive guest list
SOUKYA has an impressive guest list including dignitaries from the WHO, the UN, Nobel Laureates, members of royal families from the Middle East, U.K. and India, and several national and international CEOs. The celebrity list includes Tina Turner, Sarah Ferguson, George Harrison and Sting and nearer home, artistes Pandit Ravi Shanker, Mallika and Mrinalini Sarabhai, actors Rajnikanth and Venkatesh....
After 25 years of holistic medical practice with a patient network of over 10,000 patients from over 70 countries and creating individualistic healing programmes, Dr. Mathai laments the fact that one now has to deal with the "medical industry" and how many doctors indulge in malpractice, exploiting the hapless patient, submitting him to irrelevant investigations, expensive tests and indiscriminate use of drugs. "Most diseases emerge due to drugs taken. For us, it is a long route towards detoxification and slowly reducing the total dependency on drugs."
In homeopathy and Ayurveda, there are no side affects, says Dr Isaac blasting the myth that these medications contain cortisone and heavy metals. "Yet, I would advise people to be cautious as there are malpractices here as well. So-called self-appointed specialists dole out medications that offer short term relief. The heavy metals in some Ayurvedic preparations can lead to kidney failure, so go to well established clinics. We do not use any heavy metals or cortisone in our preparations."
How does one beat the system? By spreading awareness, by the patient demanding explanations for every one of us has a right to know what ailment dogs us and what treatment is offered. At SOUKYA every step is explained and the patient is consulted.
Now that his dream is realised; what next? "India should showcase to the world what holistic integrated health centres look like and earn the respect and admiration of the entire world…SOUKYA is one such unique model and they can take the cue from here."
Sabita Radhakrishna is a Chennai-based writer. E-mail: kittsasbi@dataone.in
Where it is
SOUKYA: International Holistic Health Centre Soukya Road, Samenthanahalli, Whitefield, Bengaluru 560 067. Website: www.soukya.com E-mail: info@soukya.com Tel: +91-9845374400
SOUKYA is 51 km from Bengaluru's International Airport, and 21 km from the heart of the city. SOUKYA has no branches. The Richmond Road office is SOUKYA's city office and a holistic homeopathy clinic.
What's available
Accommodation: Luxurious suites with private gardens and open air showers. Deluxe and Super Deluxe Rooms with private gardens with ponds and fruit trees. Three-bedroom Presidential Suite with kitchen and staff room
Food: Alcohol and tobacco-free zone with freshly prepared ovo-vegetarian cuisine, low-fat, low-salt and low-spice to complement the treatment programmes
Facilities: Separate male and female therapy rooms, steam and sauna rooms, yoga hall and meditation spaces. Consultation rooms, diagnostic laboratory, treadmill and ECG testing. Library, travel desk, internet and telecom services, outdoor recreation, swimming pool and a 2.5km walking/jogging track. Packages for cardiac hypertension, diabetes, smoking cessation, de-addiction, rare and chronic diseases on the medical side. Wellness programmes include stress management, detoxification, rejuvenation, anti-ageing, weight-loss and Ayurveda special treatment with different tariffs for each.